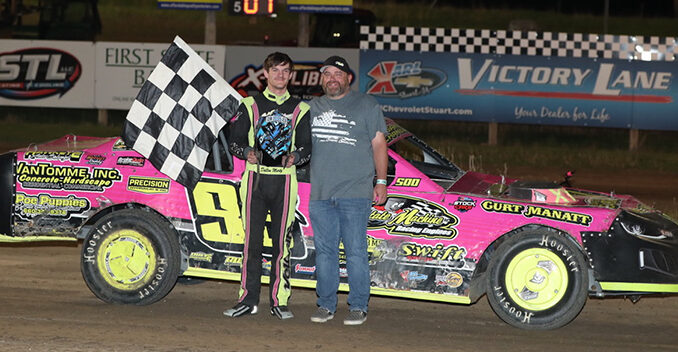 By Josh Reynolds
STUART, Iowa (May 10, 2023) – The engines fired up once again on Wednesday as another season began at Karl Chevrolet of Stuart International Speedway with the Dynamic Drivelines Dirt Duel.
The Friesen Performance IMCA Northern SportMod main started with Garrett Nelson and Cody Yaw on the front row. Nelson led lap one with Taylor Kuehl muscling by on the top side to take over on lap two. Kuehl led through a lap five yellow and it was Brayton Carter taking over from there. A couple cautions were the only thing slowing the 01 machine down as Carter cruised to the $1,000 win. Cam Reimers finished in second with Kuehl third, Mitchell Morris fourth and Matt Avila fifth.
Jeremiah Downing and Craig Furstenau led the Mach-1 IMCA Sport Compacts onto the track next and it was Downing leading early on. Kolby Sabin started to reel in the leader and worked the bottom of the track to take the lead on lap 11.
Downing did his best but Sabin was too strong and went on to the win. Downing finished second with Anthony Clark third, Owen Richards fourth and Terry Bickford fifth.
Damon Murty and Nick Roberts led a pack of 24 IMCA Sunoco Stock Cars to turn one and it was Murty making it out of turn two with the lead. Roberts moved by on lap two and set out after the win as Murty and Casey Woken duked it out for second and third place.
Woken worked into second on lap 12 but it was short lived as both Damon and 12th starting Dallon Murty sailed by the next time around. Dallon slid into second on lap 14 and from there the race was on. Roberts looked to have the race in hand, but a caution with four laps to go erased any lead and set up a dash to the finish.
Roberts held steady through lap 19, but a small bobble along with a huge surge from Murty resulted in a near photo finish with Murty coming out on top by three hundreths of a second. Roberts finished second in the $1,000 to win race with Tom Berry Jr. third, Buck Schafroth fourth and Troy Jerovetz fifth.
IMCA Sunoco Hobby Stocks came out next with John Watson and Skylar Pruitt on the point. Watson led lap one with Pruitt moving by on the top side to lead the second circuit. Lap four saw Luke Ramsey grab second just before the caution came out.
Pruitt got the field to speed and never flinched in taking his first career IMCA win and the $700 payday. Ramsey settled for second with Watson third, Adam Hensel fourth and Cody Williams fifth.
Last up for the night was the Friesen Performance IMCA Modifieds with Nick Roberts leading Ethan Braaksma on lap one. Cautions on lap five, eight and 17 slowed the field with Roberts still leading but Berry had been giving chase and now was close enough to strike.
When the green flag flew Berry slid in low as Roberts drove over the high line and into the wall, ending his night as he slowed into the infield. Berry still had his hands full with Tim Ward but held on for the $1,000 victory. Ward finished second with Jesse Dennis third, Grey Ferrando fourth and Drew Janssen fifth.