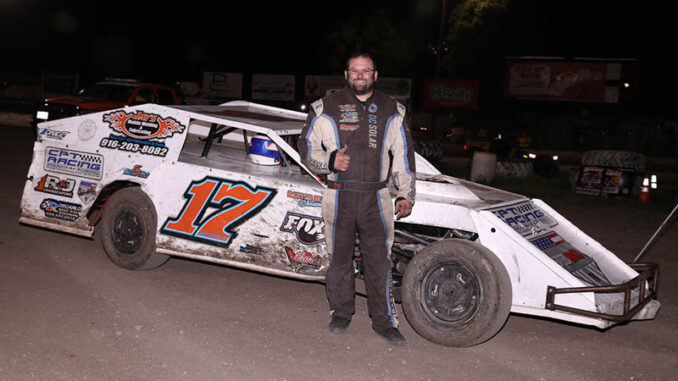 By Candice Martin 
ANTIOCH, Calif. (April 29, 2023) – Defending track champion Nick DeCarlo kicked off the Friesen Performance IMCA Modified season with the 20-lap main event win Saturday night at Antioch Speedway.
Troy Foulger set the early pace ahead of Andrew Pearce. However, Buddy Kniss and Pearce got together with Pearce stalling on the back stretch for a lap four yellow. DeCarlo moved into second behind Foulger on the restart and Kniss brought out a yellow flag a lap later.
On this restart, DeCarlo motored ahead of Foulger for the lead. As they worked the 15th lap, Foulger took a wild ride on two wheels in turn one but somehow managed to bring it back down. This allowed DeCarlo to build a more than straightaway advantage by the time the checkered flag flew.
Foulger settled for second ahead of Bobby Motts Jr. and Danny Malfatti.
Kenneth Robles scored the victory in the 20-lap IMCA Sunoco Stock Car feature.
Robles raced into the lead at the start ahead of Travis Dutra and Jason Robles. An inside pass on the back stretch on lap six gained Troy Foulger third.
Working the 13th lap, Foulger made a bold inside move to grab second from Dutra, only to see contact send him spinning for the only yellow flag of the race. Robles resumed command on the restart and went on to the satisfying win ahead of Dutra, Foulger, Jason Robles and Jeff Bentancourt.