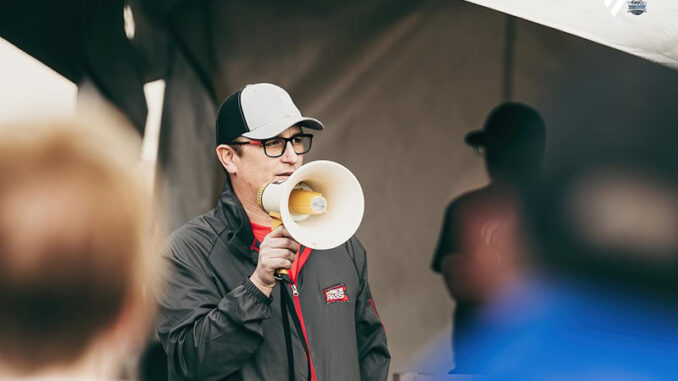 BOONE, Iowa (April 11, 2023) – The goal Grant Oskvig has for his new job is to do it so well nobody notices him.
The veteran track official and former flagman is the new race director for the IMCA Speedway Motors Super Nationals fueled by Casey's.
He'll be in charge of organizing cars on the track, making calls, dispatching tow trucks and ultimately everything that happens on the Boone Speedway oval during the entire week of dirt track racing's biggest event.
"The number one thing is consistency. Drivers need to know what to expect from me when they're on the track," said Oskvig, who moves one office to the right in the grandstand tower after running transponder scoring at Super Nationals the last three years. "To be consistent without my name being brought up would be amazing."
"One of the things I like best about Super Nationals is that it brings so many drivers from across the country and Canada to race at Boone. It makes them all better and faster," he added. "It's also the only time of the year when I get to see a lot of those drivers, their crew and their families."
From Jewell, Oskvig now directs traffic of a different sort as transportation director for the South Hamilton Schools. He also farms and knows all about the importance of consistency after officiating high school and middle school basketball for more than 20 years.
"I never raced myself. My dad Al started working at the track in 1983 and I wanted to do the same thing," Oskvig said. "I have always loved racing and getting to meet new people. Working at race tracks was something my dad and I did together."
The Oskvigs helped with tech inspection for many years the Deery Brothers Summer Series was held. Grant worked in the scoring booth and the infield and has flagged for IMCA events around the Midwest and in Arizona, including the Dakota Classic Tour and specials as far West as Las Vegas.
He takes over the Super Nationals race director post previously held by the now-retired and long-time mentor Bob Ross.
"Bob is someone I started learning from when I was about 14 at Marshalltown," said Oskvig. "While I've been in the office next to his in the crow's nest at Boone, I've been able to watch and listen, and keep learning."
Oskvig and wife Michelle have four children, Torri, Kaylee, Dylan and Ryan, and are grandparents to Bentley and Emersyn.
"Obviously Grant has been involved with IMCA for a lot of years and in a lot of different roles," noted IMCA President Brett Root. "He grew up at Boone Speedway and is a perfect fit for the Super Nationals race director position. He will do a great job."
The 41st annual IMCA Speedway Motors Super Nationals fueled by Casey's is Sept. 4-9.