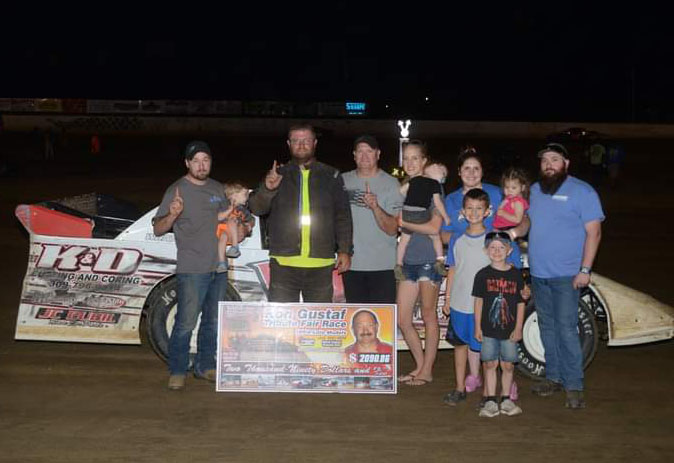 By Rob Hinckley
EAST MOLINE, Ill. (July 20, 2022) – The emotion was real on the face of Jacob Waterman in the winner's circle at East Moline Speedway. 
Waterman outdueled Chuck Hanna on a lap 19 restart and won the midweek Tribute to Ron Gustaf IMCA Sunoco Late Model feature.
"(Ron) built my motor when I first started racing," Waterman said post-race. "What he meant to us and racing is great."
That caution had flown for race long leader Gary Webb, who went too wide off turn two and smacked the wall while on the point. Waterman started on the tail and worked his way through the field to restart on the double front row.
The race went caution free the rest of the way with Waterman pocketing $2,090.86 for the 30-lapper, using the top groove especially in turns one and two.
"I just had to be patient. I was actually hoping (Hanna) would take the top on that restart. I thought I could get by him on the bottom easier but it worked out," he said. "On a hammer-down track like this, speed was important, so the top worked."
The tribute race was the main event during the Rock Island County Fair championship races. Hanna, Sam Halstead, Shawn Mulvany and Don Pataska completed the top five.
Gustaf, a long-time IMCA Late Model competitor, passed away this February at the age of 74.
Logan Veloz was the Friesen Performance IMCA Northern SportMod winner and Mike Zemo Jr. paced the IMCA STARS Mod Lites.