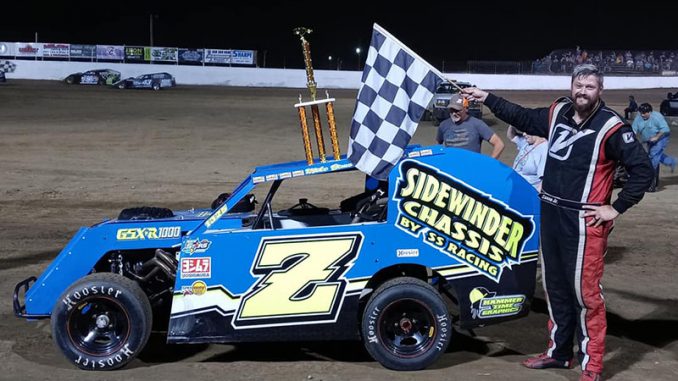 By Rob Hinckley
EAST MOLINE, Ill. (Sept. 12) – The Z Man once again left his mark.
As he rocketed around the top groove of East Moline Speedway, Mike Zemo, Jr. knew the work he and his crew put into the Sidewinder Chassis all year paid off.
The Davenport, Iowa ace passed early leader Randy Bryan, Ames, Iowa, early and zipped to the IMCA STARS Mod Lite 25-lap special win and took home $1,000. It was also win number eight at EMS against increased competition on this night.
"I was a little worried," Zemo said in the winner's circle. "I just knew the outside would be pretty good for me. I just hit my marks. It was really treacherous up there so hoping my experience would work."
The race was slowed just once by caution.
R.J. Gonzales had mechanical issues in his heat and started at the tail. He charged toward the front, taking second with seven laps left. He was unable to cut into Zemo's advantage.
Jon Padilla, Bryan and Anthony Guss rounded out the top five.
"I had a new right rear (tire) on just for tonight to be safe and it was sticking really nice," Zemo added.
One week ahead of the tribute race to his great career, Gary Webb just keeps winning. He passed his backup car with B.J. Jackson aboard on lap 15 and cruised to his third 25-lap win of the season and 522 for the career spanning over six decades.
Justin Kay suffered a flat tire on the opening lap after a car made contact with him, drawing a caution. He roared from the tail on the restart up to second ahead of Jackson, Matt Ryan and Dustin Edwards.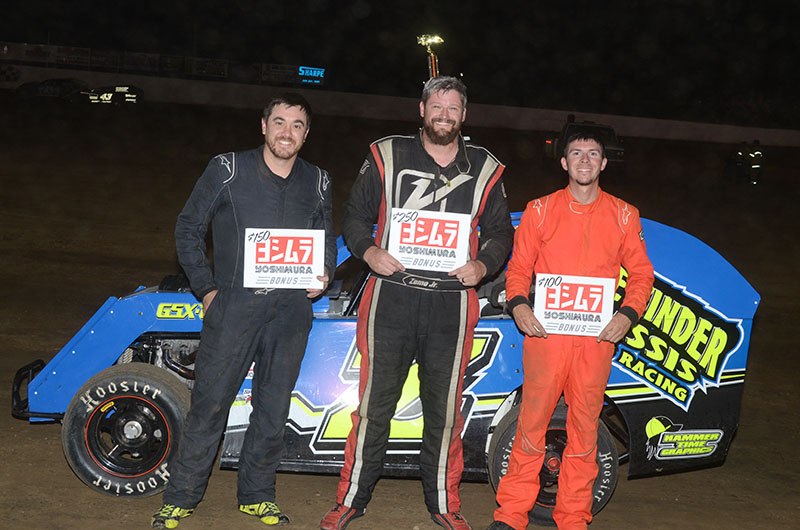 Yoshimura bonus recipients at the East Moline Speedway IMCA STARS Mod Lite special, from left, were R.J. Gonzales, Mike Zemo Jr. and Jon Padilla. (Photo by Nick Jensen)