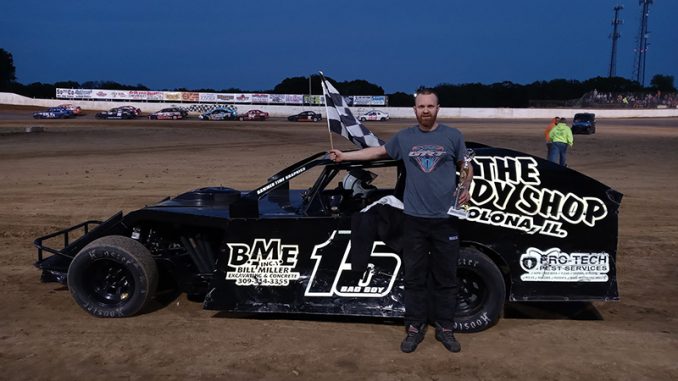 By Rob Hinckley
EAST MOLINE, Ill. (May 22, 2022) – He slowed the car in turn three, but the accelerator was down off turn four.
Brandon Durbin found a way to negotiate the final two turns and won his second straight 20-lap Friesen Performance IMCA Modified feature Sunday evening at East Moline Speedway.
The Colona, Ill. hotshoe bested Travis Denning in another classic battle.
"Me and Denning had quite the battle there," Durbin said in victory lane. "The car was too free in the center, but once I got it straight I had good traction."
Durbin started in the front row and held off Denning lap after lap, with both cars on the cushion of turns one and two.
"It was extremely slick on the bottom. There wasn't much there. I figured if I got out front, got up top and held that line, I'd be all right."
Andy Nezworski, Jim Sandusky and Anthony Guss rounded out the top five.
R.J. Gonzales also made it two-for-two by dominating the IMCA STARS Mod Lites 15-lap finale.
Jon Padilla chased, but had to settle for the runner up spot. Anthony Guss, doing double duty, Mike Morrow and Brandon Freeburg followed.
Chuck Hanna took off from the front row and paced all 25 laps of the IMCA Sunoco Late Model feature.
A late-race caution adjusted the running order as early leader Dustin Schram came across second followed by Matt Ryan, Jacob Waterman and Gary Webb.
Logan Veloz had redemption on his mind and put his Friesen Performance IMCA Northern SportMod in victory lane after leading all 15 laps.
David Engelkens, Erick Turner, Doug Burkhead and Matt Speidel came next.
Randy LaMar beat Michale Putt, Donnie Cole, Josh Lane and Nathan Smith in a wild IMCA Sunoco Hobby Stock 15-lap ender.