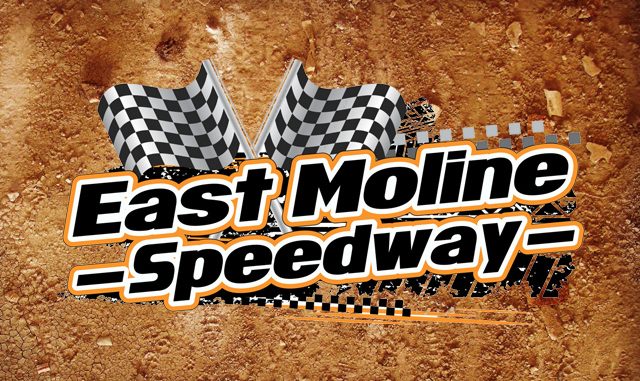 By Rob Hinckley 
EAST MOLINE, Ill. (Aug. 28, 2022) – Dustin Schram drove turns three and four of East Moline Speedway a little differently Sunday evening. 
Working the steering wheel, he used the upper racing grooves and sped to the 25-lap IMCA Sunoco Late Model season championship feature win.
"Wow, we really actually have struggled recently, but put a lot of work into this and here we are," Schram said in victory lane.
Unofficial track champion Jacob Waterman led from the pole until the Colona hotshoe lost control in turn four just a handful of laps from the checkered flag. He ended up fourth.
"We had our ups and downs all year," Waterman said. "We kept trying things on the car and it worked especially on the nights we won. I have a lot of people to thank to make this possible."
The race stayed green even after Waterman fell back and Schram held off a charging Mike Guldenpfennig at the end.
Guldenpfennig, Joe Beal, Waterman and Gary Webb rounded out the top five.
Travis Denning may have faced the toughest competition all year but still got the job done in the 20-lap Friesen Performance IMCA Modified title race. He beat visitor Jed Freiburger, Mitch Morris, Californian Troy Morris III and Mike Garland.
Denning entered the event just ahead of Brandon Durbin in the points race. The latter paced the first lap and then stopped against the wall in turn one, ending his hopes. Denning took off on the restart and paced the rest of the way.
Logan Veloz started out front and won the Friesen Performance IMCA Northern SportMod 15-lap win, topping off the 18-year old's first, unofficial track crown.
The win was not without battles as David Engelkens and Trey Grimm stayed close the entire distance while waiting out cautions. He finished the regular season with nine wins and beat Engelkens, Grimm, Keith Wiersema and Rayce Mullen.
Unofficially, Randy Lamar became the third different IMCA Sunoco Hobby Stock champ in the three-year history of the class at the track, following Steve Cox and Adam Parker.
Lamar led all 12 circuits to take the finale over Donnie Cole, Jordan Patz, Keith Lilly and Nathan Smith.