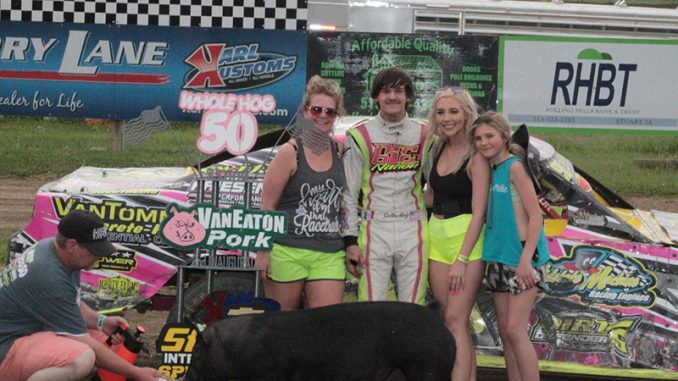 By Josh Reynolds
STUART, IA (May 30, 2022) – It was 2021 all over again on night two Monday of the Whole Hog 50 at Karl Chevrolet of Stuart International Speedway as Dallon Murty repeated as the $5,000 winner of the IMCA Sunoco Stock Car main event. 
Dallon started outside his father Damon on the front row for the 50 lap feature and took control early, with Murty senior and Dustin Vis not far behind.
A yellow on lap 13 helped Jay Schmidt slide into third as the Murtys' continued to pace the field. Vis was able to get back by Schmidt for third after the second and final caution on lap 22, and as the race wound down it was Dallon extending his lead over Damon.
When the checkered flag flew it was Dallon taking the flag to flag win by almost two seconds over Damon with Vis third, Luke Lemmens fourth and Kelly Shryock fifth.
Dallon was already qualified to start the B & B Racing Chassis All-Star Invitational.
Other IMCA feature winners for the night were Eric Stanton, Colby Fett and Todd Shute.
The sixth starting Stanton blasted around the high side to lead lap one of the IMCA Sunoco Hobby Stock main. The yellow flag flew on lap five and that was the only thing that slowed Stanton down as he cruised to the win. Zach Hemmingsen finished second with Skylar Pruitt third.
Jake Sachau led the first three laps for the Friesen Performance IMCA Northern SportMods but it was Fett powering by for the top spot on the bottom side of the track following a caution. Fett, the $1,000 winner from the night before, sailed to another $1,000 payday as he went on to take the easy win.
Izac Mallicoat finished second with Tyler Inman third.
The last race for the night was the Friesen Performance IMCA Modifieds and it was an absolutely dominating performance by Todd Shute as he drove away from the drop of the green flag.
Mike Lineberry and Jeff James duked it out for second but when it was all said and done Shute, already Fast Shafts All-Star Invitational qualifying eligible, took home the win and the $1,000 payday. Lineberry finished second with James third
Stuart's sixth event of the year on June 8 will see all of the regular IMCA Speedway Motors Weekly Racing divisions in attendance for the Bill Davis Memorial.Stock Car feature results – 1. Dallon Murty; 2. Damon Murty; 3. Dustin Vis; 4. Luke Lemmens; 5. Kelly Shryock; 6. Buck Schafroth; 7. Jay Schmidt; 8. Troy Burkhart; 9. Chanse Hollatz; 10. Anthony Goldsberry; 11. Jason Rogers; 12. Elijah Zevenbergen; 13. Josh Daniels; 14. Joe Zrostlik; 15. Abe Huls; 16. Chad Legere; 17. Todd VanEaton; 18. Ty Hill; 19. Austin Bouzek; 20. Bryan Snell; 21. Jeremy Gettler; 22. Troy Jerovetz; 23. Jeff Mueller; 24. Brandon Pruitt; 25. David Brandies; 26. Tathan Burkhart; 27. Cody Williams; 28. Michael Jaennette.