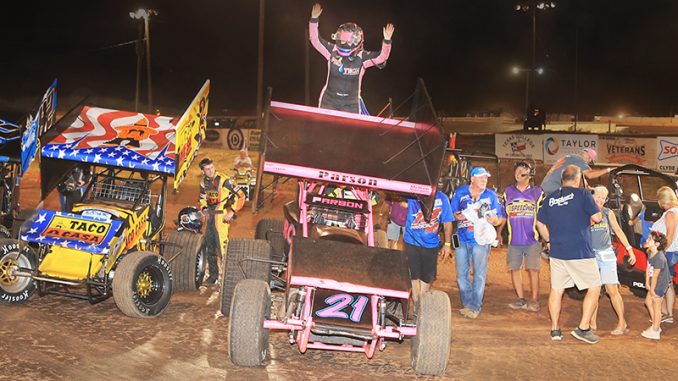 ABILENE, Texas – Michelle Parson went three years between IMCA RaceSaver Sprint Car feature victories.
Parson saw her victory drought end in her fifth Texas Sprint Series outing of the season, at Monarch Motor Speedway on July 3. Then she got an even more special win in her next start, following with the TSS checkers in front of a very full and very loud grandstand at hometown Abilene Speedway on July 31.
"We have struggled this season," Parson said. "It was great to win at Monarch and we had a lot of friends and family at Abilene. My mom doesn't get to many races but she was there that night to see me win and that was special."
After battling the DNF bug earlier in the season, Parson scored a third-place showing in the series show at Grayson County Speedway that set the stage for bigger and better things at Wichita Falls and Abilene.
"You know how racing goes. We had been struggling with setup and getting the driver to drive the car the way it should be," she said. "My crew chief Bobby Huddleston and my dad Mike (Melton) gave me a perfect car at Monarch. I drew the two (pill), ran 20 good laps and had a little bit of luck on my side. It was one of those nights when everything aligned."
The Flower Mound native saw all the stars in all the right places again at Abilene.
"Usually I do all right there but I've the win has always eluded me at Abilene," Parson said. "I got lucky in my adopted hometown, started second and never messed up."
Parson was "the little sister who wanted to do everything older brother Justin did" and followed him into the IMCA RaceSaver division in 2012. She made the four-hour trip home from Texas State University in San Marcos to race every other weekend before marrying into an equally racing-focused family.
Her own focus in the last month-plus of the IMCA season will be on staying fast and chasing more checkered flags.
"To get two wins so close together really helps get your confidence back," said Parson, "and I hope we can keep the momentum going."