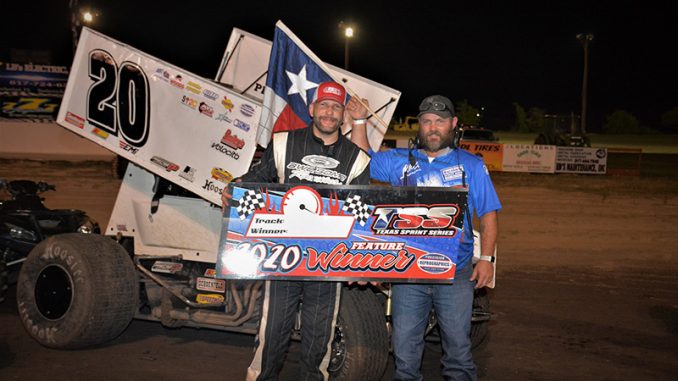 BOYD, Texas (May 29) – The higher line took Chad Wilson to the front of the Texas Sprint Series feature field Friday at Boyd Raceway.
The lower line kept him there.
Wilson started the IMCA RaceSaver Sprint Car 20-lapper from ninth, found a line to his liking higher up on the oval and passed Brandon Howle for the lead before midway.
He moved to lower grooves from that point and won ahead of Lucas Scherb and Logan Scherb.
Zane Lawrence and Jeb Sessums completed the top five. Thirty-six cars vied in the second TSS show of the season.
"It was a stout field for sure and definitely one of the most fun races I've been in," Wilson said following his first win of 2020.
Feature results – 1. Chad Wilson; 2. Lucas Scherb; 3. Logan Scherb; 4. Zane Lawrence; 5. Jeb Sessums; 6. Cody Whitworth; 7. Austin Burkham; 8. Brandon Howle; 9.Casey Merrell; 10. Cale Cozad; 11. Justin Melton; 12. Josh Harner; 13. Austin Saunders; 14. Jordan Rupe; 15. Jett Hays; 16. Michelle Parson; 17. Jerrad Warhurst; 18. Chase Brewer; 19. Gary Floyd; 20. Trey Burke.