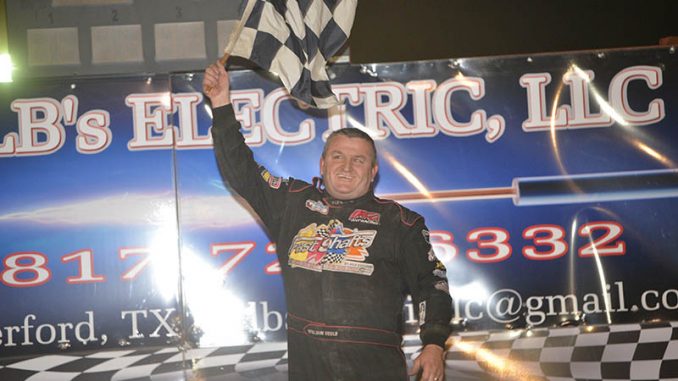 BOYD, Texas (May 27, 2022) – William Gould got to the track late but he got to the finish line first. 
Twice. 
Gould won both Friesen Performance IMCA Modified and IMCA Sunoco Stock Car features Friday at Boyd Raceway, on night two of the All Star Shootout.
"It was a good night for sure," said Gould, who pulled into the pits just about the time the first green flag was waving after spending the day helping Gould Race Cars customers get their own cars ready for the weekend. "I only consider myself as fast as I was in my last race and tomorrow we might be terrible, but tonight we were pretty fast."
He'd started 22nd in the Stock Car main – Gould was in a borrowed ride and was disqualified for an illegal carburetor – and needed just seven laps to race his way up to third.
Gould took the lead for good one lap later and won ahead of Thursday Shootout winner Jeffrey Abbey, who'd loaned him a new carburetor, Blake Clark and 17th starting Shelby Williams.
"I was dodging cars and dodging holes," said Gould, who'd been equally impressive in a different car he'd built and sold to Cullen Hill before two flat tires took him out of the lead the night before at Ardmore. "Everything just worked out."
Tanner Whitmire led the first three laps, David Goode Jr. the next 11 times around the oval before things worked out again for the seventh starting Gould in the Modified main.
Once in front, Gould checked out and won by four-plus seconds over Whitmire, 16th starting Jon White, Goode and Josh McGaha.
"I race a Modified here weekly and I've raced Boyd on and off since 1997," said Gould. "I really like this track. It's always fast, it's always got multiple lanes and it's almost never dry and dusty."
The Modified win paid $1,000 while the Stock Car checkers were good for $750. Gould was already eligible to qualify for both the Fast Shafts All-Star Invitational and the B & B Racing Chassis All-Star Invitational.
Michael Dabney banked $750 after leading all 20 laps of the Smiley's Racing Products IMCA Southern SportMod feature.
The outside pole starter caught the back of the field before the first and only caution of the night flew on lap nine. Dean Abbey passed Brandon Geurin for second on the ensuing restart and did his best to stay close before the leader got a lapped car between them at the end.
Opening night winner Rowdy Day made his way to third from ninth starting and Geurin ended in fourth.
Forty of the 120-plus entries Friday night were Modifieds.
Round three of the All Star Shootout is Saturday at Kennedale Speedway Park, where Modifieds race for $1,500 to win and Stock Cars and Southern SportMods both for $750. The grandstand opens at 4:30 p.m., hot laps are at 5:15 p.m. and racing starts at 6 p.m.
The Shootout concludes Sunday at Heart O' Texas Speedway in Waco.
All Shootout programs are broadcast by Speed Sport.TV affiliate IMCA.TV.
Feature Results
Modifieds – 1. William Gould; 2. Tanner Whitmire; 3. Jon White; 4. David Goode Jr.; 5. Josh McGaha; 6. Fred Wojtek; 7. Jacob Pirkle; 8. Michael Maraschick; 9. Spencer Hartwick; 10. Rusty Trevathan Jr.; 11. Michael Ables; 12. Chase Werner; 13. Marcus Beam; 14. Steve Askew; 15. Chuck Sanders; 16. Kenzington Ogle; 17. Vince Ogle; 18. Mark Adams; 19. Charles Brewer; 20. Chad Cox; 21. Brint Hartwick; 22. Jeff Emerson; 23. Chris Morris; 24. Jeff Rowland.
Stock Cars – 1. William Gould; 2. Jeffrey Abbey; 3. Blake Clark; 4. Shelby Williams; 5. Chris McCurdy Jr.; 6. Tim Clonch; 7. Bosco Garrett; 8. Lance Hanson Jr.; 9. Paul Peters; 10. Brad Ekstrom; 11. Justin Nabors; 12. Brad Hartwick; 13. David Goode Sr.; 14. Ryan Sanford; 15. Markiss Harcrow; 16. Thomas Hall Jr.; 17. Dylan Sveom; 18. Michael Heckenast; 19. Erik Miles; 20. Devin Burgess; 21. Dennis Bissonnette; 22. Donny Singer; 23. April Phillps; 24. Boone Evans.
Southern SportMods – 1. Michael Dabney; 2. Dean Abbey; 3. Rowdy Day; 4. Brandon Geurin; 5. Billy Gould Jr.; 6. Jerrett Bransom; 7. John Reid Jr.; 8. Trevor Cogburn; 9. Trevor Raney; 10. Calen Mohler; 11. Race Elliott; 12. Dustin Hector; 13. Austin Neubauer; 14. A.J. Spears; 15. Bill Blackman; 16. Kelly Williams; 17. Chad Reid; 18. Payton Zentgraf; 19. Mason Martin; 20. Kaleb Emerson; 21. Wes Cummings; 22. Dustin Garrett; 23. Boone Evans; 24. Robert Elliott.