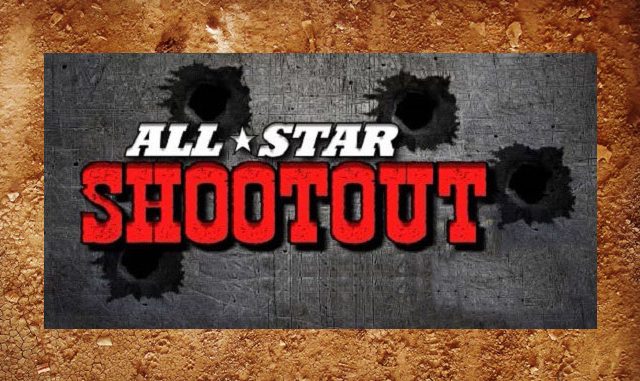 ARDMORE, Okla. (May 24, 2022) – Early entries top 120 as all stars in three IMCA divisions will see action each night of the May 25-29 All Star Shootout.
Friesen Performance IMCA Modifieds run for $1,000 to win, IMCA Sunoco Stock Cars and Smiley's Racing Products IMCA Southern SportMods both for $750 to win beginning with opening night Wednesday, May 25 at Southern Oklahoma Speedway in Ardmore.
The Shootout is then Texas-bound for shows Thursday, May 26 at Grayson County Speedway in Bells; Friday, May 27 at Boyd Raceway; Saturday, May 28 at Kennedale Speedway Park; and Sunday, May 29 at Heart O' Texas Speedway in Waco.
All five race programs will be broadcast by IMCA.TV.
Modified and Stock Car feature winners become eligible to qualify for the Fast Shafts All-Star Invitational or B & B Racing Chassis All-Star Invitational, respectively; Modified and Stock Car Shootout champions also become eligible to qualify for their race of champions events at the upcoming IMCA Speedway Motors Super Nationals fueled by Casey's.
An open practice runs from 6-9 p.m. tonight (Tuesday) at Ardmore. Pit gates and the grandstand open at 4 p.m. with hot laps at 6:30 p.m. and racing at 7 p.m. on Wednesday.
Grayson County opens the pits at 4 p.m. and the grandstand at 6 p.m. with hot laps at 7 p.m. and racing at 7:30 p.m. Boyd opens pit gates and the grandstand at 6 p.m. Hot laps precede racing at 8 p.m.
Kennedale opens the pit gates late Friday night for out-of-town travelers and starts selling pit passes at 2 p.m. Saturday. The grandstand opens at 4:30 p.m., hot laps are at 5:15 p.m. and racing starts at 6 p.m. And at Heart O' Texas, pits open at 4 p.m., the grandstand opens at 5 p.m., hot laps are at 6:30 p.m. and racing is at 7 p.m.
Modified drivers pre-entered include:
Michael Ables
Larry Adams
Mark Adams
Steve Askew
Jared Baird
Marcus Beam
Matt Beasley
Charles Brewer
Charlie Brown
Casey Brunson
Brandon Chenoweth
Tim Clonch
Beau Collins
Chad Cox
Landon Curtis
Matthew Day
Cody Duke
Drake Findley
Jason Gomez
Joe Gomez
David Goode Jr.
Mike Goodson
William Gould
Garrett Gregory
Brint Hartwick
Spencer Hartwick
Buddy Honaker
Tyler Honeywell
Darrell Hughes
Brandon Lewis
Christopher Luttmer
Josh McGaha
Michael Maraschick
Chad Melton
Greg Moran
Chris Morris
Kade Ogle
Kenzington Ogle
Vince Ogle
Jacob Pirkle
Ryan Reeves
Jeff Rowland
Larry Sanders
Zach Stearns
Jeff Taylor
Cody Tidwell
Rusty Trevathan
Rusty Trevathan Jr.
Trinton Turney
Jake Upchurch
Chase Weimer
Maison Wheeler
Jon White
Steven Whiteaker Jr
Mike White
Tanner Whitmire
Rickey Wilkerson
Cameron Wilson
Fred Wojtek
Pre-entered Stock Car drivers are:
Jeffrey Abbey
Dennis Bissonnette
Blake Clark
Tim Clonch
Cameron Cook
George Egbert
Boone Evans
Tommy Fain
Bosco Garrett
David Goode Sr.
William Gould
Matt Guilliaume
Thomas Hall
Thomas Hall Jr.
Lance Hanson
Markiss Harcrow
Brad Hartwick
Haydan Hartwick
Michael Heckenast
Ray Allen Hoedebeck
Chris McCurdy
Erik Miles
April Phillips
Ryan Sanford
Donny Singer
Dylan Sveom
Chris Webb
Dustin White
Shelby Williams
And Southern SportMod entries include:
Dean Abbey
Brayden Beard
Bill Blackmon
Jerrett Bransom
Danny Cavanagh
Devin Chambers
Trevor Cogburn
Jay Coone
Wes Cummings
Michael Dabney
Mason Day
Rowdy Day
Tommy Dove
G.W. Egbert
Boone Evans
Trey Frie
Dustin Garrett
Brandon Geurin
Billy Gould Jr
Tim Hamilton
Shannon Hartline
Dustin Hector
Colton Keel
Josh Landers
Jacob Martin
Mike Martin
Calen Mohler
Trevor Raney
Chad Reid
John Reid Jr
James Skinner
Daniel Smith
Kyle Wilkins
Kelly Williams
Payton Zentgraft