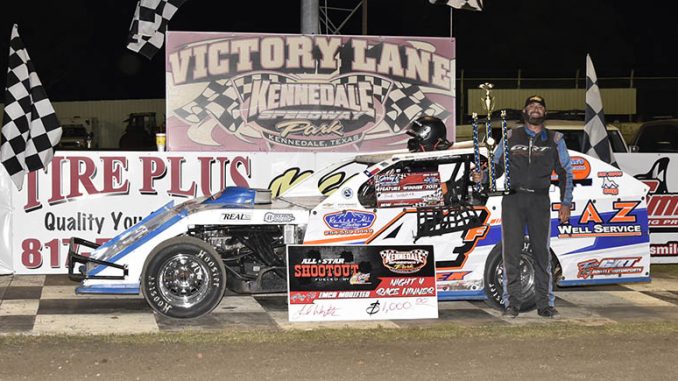 KENNEDALE, Texas (May 29) – The hugs and high fives that followed Fred Wojtek's All Star Shootout fueled by Fast Shafts feature win stemmed from his third place finish in his qualifying heat Saturday at Kennedale Speedway Park.
Wojtek caught William Gould for the lead 11 laps into the IMCA Modified main event, then outran Gould and Jacob Pirkle to the $1,000 checkers.
"We weren't too good in the heat. We changed a spring and ball joint and good gosh, the car was like a different car (in the feature). It handled really well after we made all the changes," Wojtek said following his first win of the season, and first-ever win at KSP.
Trevor Egbert paced the first two of 25 laps before Gould drove by. Wojtek was the leader before back-to-back cautions on lap 12. He saw a two second advantage erased by the final caution of the night, on lap 21.
"There was character to the track tonight. I just tried to hit my marks, drive through the middle of (turns) one and two and a car width off the bottom in (turns) three and four," said Wojtek, new to the Fast Shafts All-Star Invitational ballot. "There was a lot of stout competition here tonight. It felt good to get this win."
Gould was runner-up the night after winning at Boyd. Pirkle had started 13th, fourth place finisher Talon Minten 15th. Egbert ended in fifth.
Jake Upchurch was the $750 winner by a margin of less than a bumper width ahead of Jerrett Bransom in the caution-free Smiley's Racing Products Southern SportMod main event.
Robert Elliott slowed with two laps left, leaving Upchurch and Bransom to set up the dramatic finish.
"It was definitely close. Everything just fell into place for me the last couple laps," said Upchurch, adding "I've won some close races but I don't think I've won one that close before. I stayed committed to the high side and when it worked it was awesome. When it didn't, I had my hands full."
The checkers were Upchurch's fourth of the season and third of 2021 at Kennedale, where he's a three-time track champion.
"Kennedale is my home track and one of my favorites," he said. "It's always been good to me."
Cody Smith started 12th and ended in third. Billy Gould Jr. was fourth and Robert Scrivner fifth. Fifty-one Southern SportMods vied in the Saturday show.
Craig Moss moved to the top of the IMCA Sunoco Stock Car podium when Demetrius Carter was disqualified in post-race tech for a front suspension violation. He'd led the first six circuits and ran second the last half of the race.
The $750 checkers make Moss eligible to qualify for the B & B Chassis All-Star Race. Dustin Mooney, Kirk Martin, 14th starting Bransom and 16th starting Cary White were scored next.
Blake Clark was the $650 Stock Car 1-on-1 winner and Steven Bevils was best in the Mach-1 Sport Compact main.