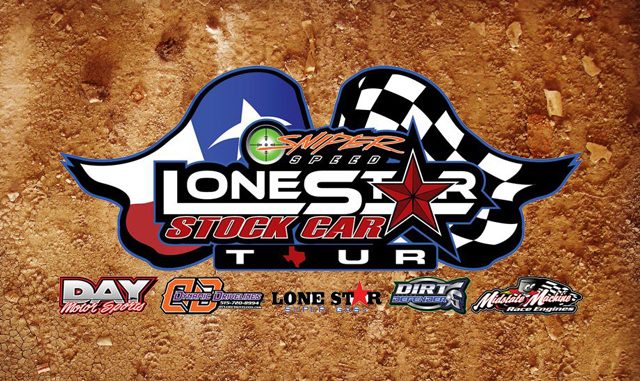 ABILENE, Texas – The fourth annual Sniper Speed Lone Star Tour for IMCA Sunoco Stock Cars travels to six tracks in Texas and Oklahoma, with a $5,000 check waiting for the champion. 
Both IMCA Sunoco Stock Cars and IMCA Modifieds run for $1,000 to win at Abilene Speedway on Saturday, Feb. 20, the second show of the Ice Breaker weekend; Sunday, Feb. 21 at Heart O' Texas Speedway in Waco; Monday, Feb. 22 at Cotton Bowl Speedway in Paige; Wednesday, Feb. 24 at Grayson County Speedway in Bells; Friday, Feb. 26 at Kennedale Speedway Park; and Saturday, Feb. 27 at Southern Oklahoma Speedway in Ardmore.
Stock Car feature winners are eligible for a $500 loyalty bonus from IMCA; all Modified features are qualifying events for the Fast Shafts All-Star Invitational ballot.
Tuesday is an off day following cancellation of the event scheduled at Boyd and the Grayson County race moves to Wednesday. The manufacturers' race for Stock Cars, king of the hill for Modifieds and pit party all are Thursday at KSP.
IMCA Speedway Motors Weekly Racing National and KMJ Performance Texas State points will be awarded. Stock Cars chase EQ Cylinder Heads Southern Region points and Modifieds run for Razor Chassis South Central Region points.
The Stock Car tour champion also becomes eligible to qualify for the Sunoco Race Fuels Race of Champi­ons at the IMCA Speedway Motors Super Nationals fueled by Casey's in September.
Drivers must pre-register by Feb. 16 at www.sniperspeed.com to make themselves eligible for contingency awards and point fund shares. Nightly entry fee for the Stock Cars at the track is $75.
A post-tour drawing will award a Midstate Machine-built engine to a Stock Car driver and a 604 crate engine to a Modified driver who are pre-registered and who have perfect attendance.
More information is also available by calling Sniper Speed at 920 373-3350 and on the tour Facebook page.
30
IMCA rewarding loyalty with bonuses for Lone Star Tour Stock Car feature winners
ABILENE, Texas – Stock Car drivers will see the loyalty they've shown IMCA and its sanctioned tracks rewarded during the Feb. 20-27 Sniper Speed Lone Star Tour.
IMCA adds a $500 loyalty bonus to the winner's share in each of the six events in the fourth annual tour, providing that driver did not compete in any Stock Car event held in the State of Texas prior to opening night of the Ice Breaker Challenge at Abilene Speedway on Feb. 19.
That makes winning a tour event pay $1,500. A second bonus comes with eligible feature winners being added to the list of qualifiers for the inaugural Stock Car All-Star Invitational at the upcoming IMCA Speedway Motors Super Nationals fueled by Casey's.
"The Ice Breaker has been our traditional season-opening event in Texas for 20-plus years," noted IMCA President Brett Root. "It's what IMCA racers in the South Central Region have become accustomed to and what IMCA will support."