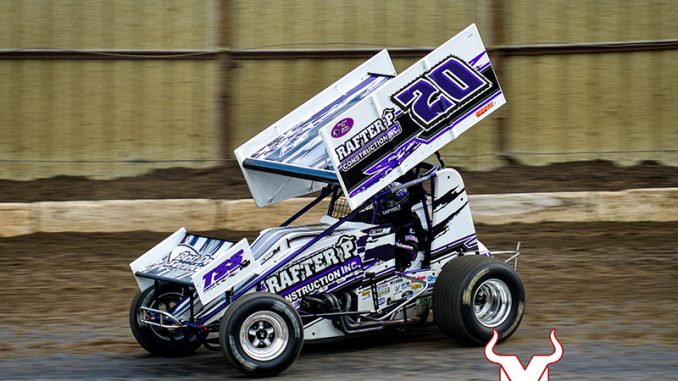 By Derrike Pennington
KENNEDALE, Texas (May 15) – Chad Wilson got the job done Saturday at Kennedale Speedway Park, holding off Zane Lawrence for his first Texas Sprint Series win of the season.
Wilson raced to first from fifth starting, taking the IMCA RaceSaver Sprint Car checkers ahead of Lawrence and Landon Thompson in a season-best third.
Christian Kinnison had the opportunity to start the feature from the pole after the redraw but decided to take the All Import Auto Parts Challenge, putting him to the rear of the field for a chance to win an extra $500.
With Christian relinquishing the pole position for the challenge, Casey Merrell inherited the spot to line up alongside teammate Thompson,
With a strong start, Merrell looked to be on his way to a victory until a mid-race caution flew and once back to green he faded to ninth after suffering a tire issue.
Tire issues also plagued Kinnison, who saw his bid for the added money disappear with tire issues of his own and ended up coming home 17th.
Feature results – 1. Chad Wilson; 2. Zane Lawrence; 3. Landon Thompson; 4. Lucas Scherb; 5. Jeff Emerson; 6. Chris Kelly; 7. Colby Estes; 8. D.J. Estes; 9. Casey Merrell; 10. Jordan Rupe; 11. Kenny Venable; 12. Corby Scherb; 13. Merle Scherb; 14. Joshua Hanna; 15. Colby Stubblefield; 16. Joshua Harner; 17. Christian Kinnison; 18. Justin Bates; 19. Katelynn Dixon; 20. Logan Scherb.