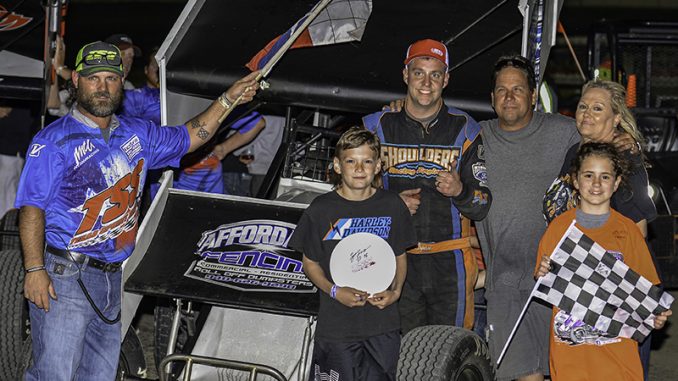 By Derrike Pennington
BELLS, Texas (May 8) – Logan Scherb broke his cold streak and returned to 2020 form Saturday night, taking home his first Texas Sprint Series win of the season at Grayson County Speedway.
Scherb charged to the front of the IMCA RaceSaver Sprint Car field after starting sixth, weaving through traffic wherever he could find an opening.
Early in the race, front row starters Michael Day and Jeff Emerson thrilled fans racing wheel-to-wheel. Unfortunately, they got a little too close toward the end while chasing Scherb and brought out a late-race caution which sent Emerson to the rear.
Chance McCrary and Michelle Parson each brought home their season best finishes with McCrary holding strong up front all race and coming home in second and a plus-five charge from Parson putting her in third.
The hard charger went to Corby Scherb after starting 20th and finishing seventh. 
Feature results – 1. Logan Scherb; 2. Chance McCrary; 3. Michelle Parson; 4. Michael Day; 5. Merle Scherb; 6. Jerrad Warhurst; 7. Corby Scherb; 8. Christian Kinnison; 9. Matt Etzelmiller; 10. Junior Jenkins; 11. Joshua Hanna; 12. Jeff Emerson; 13. Reagan Reed; 14. Justin Bates; 15. Joshua Harner; 16. Gary Floyd; 17. Kenny Venable; 18. Chris Kelly; 19. Casey Merrell; 20. Zane Lawrence.