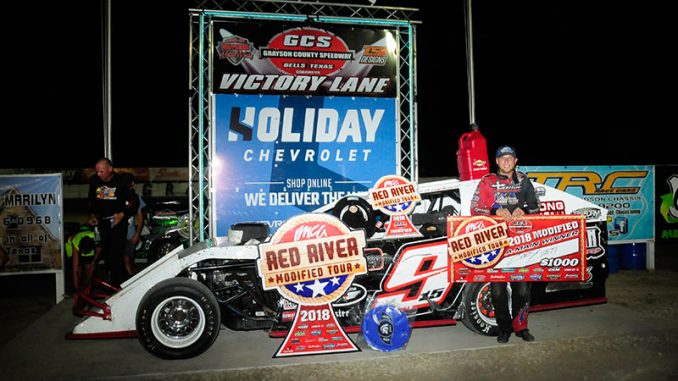 By Mike Spieker
BELLS, Texas (May 31) – The inaugural Red River IMCA Modified Tour produced its fifth different winner in as many nights Thursday at Grayson County Speedway.
Chris Elliott started fifth and charged to the $1,000 payday and a berth on the Fast Shafts All Star Invitational ballot.
"This feels so good," said Elliott in victory lane. "We were working on this thing until 7:30 in the morning. The car has been really good, I just haven't had any luck in the features. [Grayson County Speedway] is my type of place. This place is awesome. It was a lot of fun out there."
David McKay and Justin Radcliff led the field of 25 IMCA Modifieds to the green flag for the 25-lap feature. McKay grabbed the lead on the opening lap, but Radcliff came storming back to take the point on lap three. Matt Guillaume took advantage of a lap six restart as he raced into second.
Elliott, who was the only car in the top five running the cushion, was making progress as he moved into third on lap seven. Two circuits later, Elliott found a way around Guillaume.
A thrilling three-wide race for the lead broke out around the halfway point as both Elliott and Guillaume reeled in Radcliff for the lead. The lead trio went three-wide down the back straightaway before they all swapped lanes in turns three and four.
Exiting the turn, Elliott made a textbook crossover move underneath both Radcliff and Guillaume to take the lead entering turn one.
Once out front, Elliott found his groove up on the high side once again and set sail.
At the line, Elliott topped Sustaire, Riley Simmons and Guillaume.
Results – 1. Chris Elliott; 2. Kevin Sustaire; 3. Riley Simmons; 4. Matt Guillaume; 5. Fred Wojtek; 6. Jeffrey Abbey; 7. Justin Radcliff; 8. Chase Allen; 9. Kyle Whitworth; 10. Kevin Green; 11. Cory Davis; 12. John Gober; 13. Jeff Hoegh; 14. David McKay; 15. Jason Hillard; 16. Chad Melton; 17. Brian Schultz; 18. Robbie Daniels; 19. Ryan Williams; 20. Talon Minten; 21. Bo Day; 22. Josh McGaha; 23. JP Dowell; 24. Curtis Allen; 25. Mark Carrell.