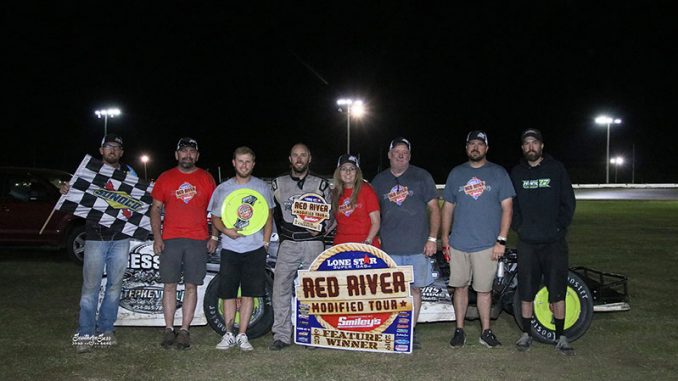 By Jackson Braun
ARDMORE, Okla. (May 31) – The finale to the second edition of the Lone Star Super Gas IMCA Red River Modified Tour presented by Smiley's Racing Products provided a lot of action as the racing events unfolded on the Southern Oklahoma Speedway.
Feature winners on the fifth and final night of the tour were Jake O'Neil, IMCA Modifieds; Trevor Egbert, Smiley's Racing Products Southern SportMods; and Jeffrey Abbey, IMCA Sunoco Stock Cars.
Champions were Cory Davis in the Modifieds, Egbert and Gary Williams, Stock Cars.
Throughout the Modified pack, three- and four-wide racing was common as the racers fought for position. Up front, Travis Johnson and O'Neil raced around the high side of the speedway and O'Neil attempted to find a way around Johnson.
In almost every single corner, O'Neil would double up with Johnson, but couldn't find the momen­tum to do so until a few laps later. A caution flag reset the field before Jeff Taylor took his ma­chine to second.
Nobody was able to touch O'Neil, however, as the decision to Ardmore paid off for the Arizona native, already on the Fast Shafts All-Star Invitational ballot, with a $1,500 payday.
Egbert and Shane Hartline avoided getting caught up in any SportMod entanglements. Hartline threw the kitchen sink at the leader but Egbert held on, grabbing his second win of the week along with the tour championship.
The Stock Car feature came down to a photo finish after it looked like Abbey had checked out on the field.
Seemingly out of nowhere, 11th starting Shelby Williams cruised on the low side of the speedway. He dipped his nose underneath Abbey and they raced side-by-side for the last few laps. At the line, Abbey was able to hold on and go back-to-back in the IMCA Stock Cars on the tour.
Williams' father Gary only needed to start the feature to collect enough points to win the champion­ship. Gary ended up spinning out during the feature, but the race stayed green. He limped a broken machine across the finish line to clinch the championship by five points over Ab­bey.
Feature Results
IMCA Modifieds – 1. Jake O'Neil; 2. Jeff Taylor; 3. Brint Hartwick; 4. Matt Guillaume; 5. Travis Johnson; 6. Cory Davis; 7. Jeffrey Abbey; 8. Riley Simmons; 9. David Goode Jr.; 10. Josh McGaha; 11. William Gould; 12. Tyler Stevens; 13. Eric Tomlinson; 14. Fred Wojtek; 15. Chris Morris; 16. Chris Bragg; 17. Beau Begnaud; 18. Kevin Green; 19. Jason Hunter; 20. Mark Carrell; 21. Jeramie Cox; 22. Travis Bragg, Duncan; 23. Larry Adams; 24. Jeff Hoegh; 25. Brandon Hood; 26. Chad Melton; 27. Jerad Herring; 28. Chris Elliott; 29. John Gober; 30. Michael Ables; 31. P.J. Egbert.
Southern SportMods – 1. Trevor Egbert; 2. Shane Hartline; 3. Don Reid; 4. Kevin Rowland; 5. Casey Brunson; 6. Cullen Hill; 7. Brandon Watson; 8. Kasey Kuykendall; 9. Chad Reid; 10. Don­nie Hix; 11. Kaden Honeycutt; 12. Trevor Raney; 13. David Bolf; 14. Taylor Florio; 15. Josh Cournoyer; 16. Tate Butler; 17. Devin Chambers; 18. Kamera McDonald; 19. Chris Florio; 20. Jimmie Wright; 21. Bobby Davis II; 22. Tyler Bragg; 23. Kyle Wilkins; 24. Brayden Wyatt; 25. Blaine Shives; 26. Chase Vineyard; 27. Case Penrod; 28. Jay Wells.
Stock Cars – 1. Jeffrey Abbey; 2. Shelby Williams; 3. Brandon Hood; 4. Westin Abbey; 5. Bryan Schutt; 6. Brent Cargal; 7. George Egbert; 8. Dennis Bissonnette; 9. Aaron Benedict; 10. Justin Graves; 11. Charlie Brown; 12. Lee Cranford; 13. Lee Riley; 14. Gary Williams; 15. Drew Garcia; 16. Vernon Owens.