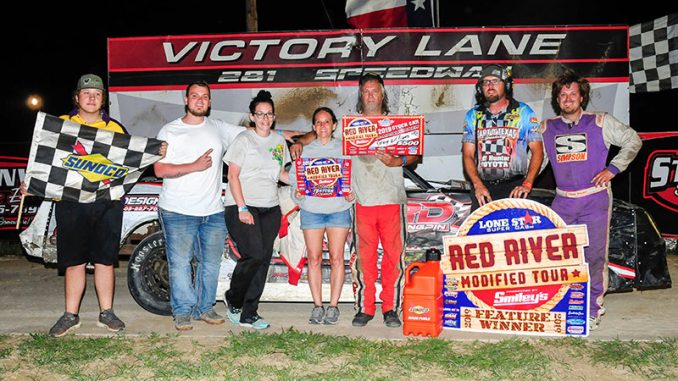 STEPHENVILLE, Texas (May 27) – Cory Davis and Gary Williams both won second Lone Star Super Gas IMCA Red River Modified Tour presented by Smi­ley's Racing Products features on Memorial Day at 281 Speedway. 
Trevor Egbert, meanwhile, won for the first time at Stephenville in so long he wasn't sure when.
Davis led all 25 laps of the IMCA Modified main event, weathering a series of early cautions and pulling away after each restart. Also the Sunday night winner at Heart O' Texas Speedway, Davis checked out on everybody in taking the $1,500 victory.
Fred Wojtek and Chris Morris were next across the line.
Williams had topped the Saturday IMCA Sunoco Stock Car lidlifter at Kennedale Speedway Park. He made just the second start of his career at 281 a memorable one with a flag to flag run in front, holding off challenges from Dennis Bissonnette and then from eventual runner-up Cary White.
"When we got it done at Kennedale, we knew we had a fast car. We were hoping for a top five here. To be able to run this well and win gave us more confidence," Williams said. "Joe Spillman gave us a well-prepared track. Hats off to him and his crew for giving us a great place to race."
After starting fifth, Egbert was up to third before the only caution came out to interrupt the Smi­ley's Racing Products Southern SportMod feature. He took the lead on lap seven and left the rest of the field to fight for second.
"We worked the high to middle line pretty much and rolled around everyone on the lower line. We could run anywhere we wanted to," said Egbert, flourishing in the Express Race Cars, Dirt De­fender and CRS Suspensions ride. "This was one of those races you wish you could do over and over again. We hadn't won at 281 since I don't know when, and that was in a Modified."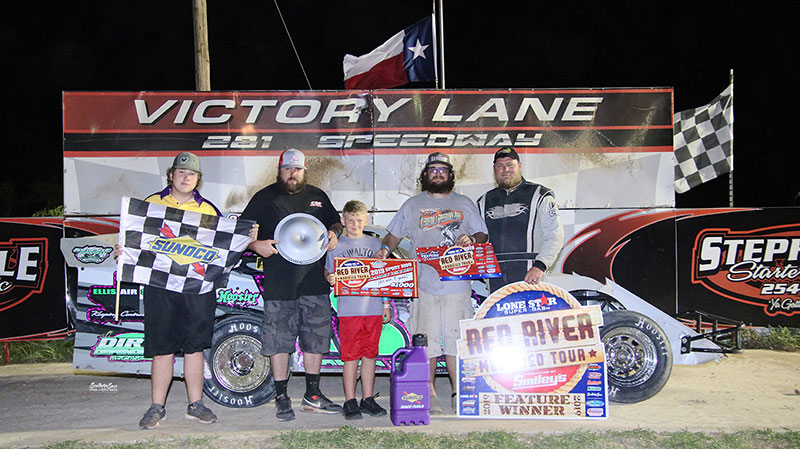 Feature Results
Modifieds – 1. Cory Davis; 2. Fred Wojtek; 3. Chris Morris; 4. Tyler Stephens; 5. Eric Tomlinson; 6. Kevin Green; 7. Riley Simmons; 8. John Gober; 9. Josh McGaha; 10. Chris Elliott; 11. William Gould; 12. Jeff Hoegh; 13. Beau Begnaud; 14. Jason Hunter; 15. Brent Tidwell; 16. David Goode Jr.; 17. Garrett Higgins; 18. Matt Guillaume; 19. Jeffrey Abbey; 20. Drew Armstrong; 21. Chuck Sanders; 22. P.J. Egbert; 23. Ryan Williams; 24. Brandon Hood; 25. Chris Bragg.
Southern SportMods – 1. Trevor Egbert; 2. Jake Upchurch; 3. Casey Brunson; 4. Bo Day Green­ville; 5. Chad Fitzgerald; 6. Justin Nabors; 7. Kevin Roland; 8. Kaden Honeycutt; 9. James Hanusch; 10. Nick Clinkenbeard; 11. Taylor Florio; 12. Blaine Shives; 13. Kamera McDonald; 14. Trevor Raney; 15. Rowdy Day; 16. Junior Dosher; 17. Brian Flowers; 18. Gregory Muirhead; 19. Greg Frazier; 20. Craig Oakes; 21. Ryan Thomas; 22. Tanner Houston; 23. James McCreery; 24. Kyle Wilkins; 25. James Skinner.
Stock Cars – 1. Gary Williams; 2. Cary White; 3. Shelby Williams; 4. Dennis Bissonnette; 5. A.J. Dancer; 6. Jeffrey Abbey; 7. Brandon Hood; 8. Jason Batt; 9. Tyler Muirhead; 10. Caleb Cren­shaw; 11. George Egbert; 12. Westin Abbey; 13. Dustin White; 14. Gary Kerr Jr.; 15. Austin Carter; 16. Vernon Owens; 17. Charlie Brown; 18. Daniel Shipler; 19. Lee Riley; 20. Treven Geter; 21. Demetrius Carter; 22. Justin Wierenga; 23. Drew Garcia; 24. Clint Brown; 25. Dustin Mooney.