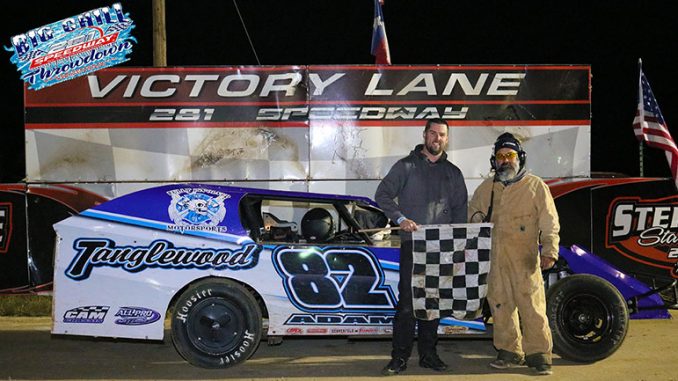 STEPHENVILLE, Texas (Feb. 8) – Mark Adams' first start in an IMCA Modified ended with his first feature win in the new division.
Piloting the 2016 CAM Chassis that Josh McGaha drove to last season's Razor Chassis South Central Region crown, Adams avoided an early melee, restated at the front and then led every lap of the Friday Big Chill Throwdown feature at 281 Speedway.
"My goal this season was to win a local race," said Adams, who made the move to the Modified after earning Texas State honors in the Stock Car division in 2018. "I got in more than 100 laps during practice at Abilene a couple weeks ago and that was good seat time, but I was surprised to win so soon."
Jeffrey Abbey led brothers Dean and Westin across the stripe in the IMCA Sunoco Stock Car fea­ture. Jay Coone was the Smiley's Racing Products Southern SportMod victor, ahead of Kaden Honeycutt and Justin Shaw.
The Mach-1 Sport Compact main saw another first-year, first-time winner in Brian Schoenbaum Jr.
He raced from sixth starting and took the checkers ahead of William Crease and Clifton Whisenant.
Saturday's Big Chill program was lost to inclement weather.
Feature Results
Modifieds – 1. Mark Adams; 2. John Aaron; 3. Brent Gilliam; 4. Mike McCarthy; 5. J.J. Carr; 6. Donald Banker.
Stock Cars – 1. Jeffrey Abbey; 2. Dean Abbey; 3. Westin Abbey; 4. Kirk Martin; 5. A.J. Dancer; 6. Gary Williams; 7. Lee Riley; 8. Shelby Williams; 9. Dennis Bissonnette; 10. Elijah Zevenbergen; 11. Bryan Schutte; 12. Lewis Blackwood; 13. Jason Batt; 14. Austin Smith.
Southern SportMods – 1. Jay Coone; 2. Kaden Honeycutt; 3. Justin Shaw; 4. Justin Nabors; 5. Taylor Florio; 6. Gregory Muirhead; 7. Gerald Henderson; 8. Colton Monroe; 9. Lucas Hoide; 10. Larry Underwood; 11. William Moore; 12. James Hanusch.
Sport Compacts – 1. Brian Schoenbaum Jr.; 2. William Crease; 3. Clifton Whisenant; 4. Harold Clifton; 5. Anthony Vandenberg; 6. Steven Bevills; 7. Dakota Dees; 8. Ryan Whisenant; 9. Pam­ela Whisenant; 10. Kaleb Watson; 11. Colton Mooney; 12. Howard Watson; 13. Billy Butcher; 14. Kody Crofutt; 15. Julia Childs.