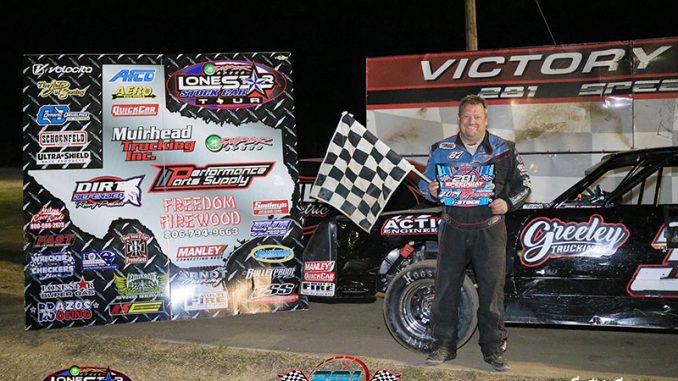 STEPHENVILLE, Texas (Feb. 17) – A driver who knows a thing or two about winning tour races far from home did just that Sunday night at 281 Speedway.
Minnesota veteran Curt Lund, making his first racing visit to Texas, won round two of the Sniper Speed Lone Star Tour for IMCA Sunoco Stock Cars. The checkers were good for $750.
"The tracks down here are smaller than I'm used to," said Lund, who has racked up 100-plus wins in both the IMCA Modified and IMCA Sprint Car divisions. "I was real happy to win and to have competed with all the guys (59) down here."
Lund started fourth and led the last 17 of 20 circuits. He was catching up with the back of the field when the checkers flew and was chased across the line by opening night winner Jeffrey Abbey and Shawn Ritter.
Lund was a winner last summer in North Dakota, during the Kupper Chevrolet Dakota Classic Tour. He raced his way out of 'B' features both nights at Abilene, finishing seventh on Friday and then fifth in Saturday's tour opener.
William Gould, another multi-division star, was the IMCA Modified feature winner while James Hanusch paced the Smiley's Racing Products Southern SportMods.
William Creese collected the Mach-1 Sport Compact victory.
Feature Results
Stock Cars – 1. Curt Lund; 2. Jeffrey Abbey; 3. Shawn Ritter; 4. Tyler Muirhead; 5. Dennis Bis­sonnette; 6. Austin Bonner; 7. Joe Bellm; 8. Kirk Martin; 9. Hesston Shaw; 10. Kyle Pfeifer; 11. Dan Mackenthun; 12. Craig Moss; 13. Shelby Williams; 14. Dean Abbey; 15. Michael Sheen; 16. Dean Cornelius; 17. Troy Burkhart; 18. Jason Rogers; 19. Jeff Mueller; 20. Kyle Falck; 21. Tony Hardesty.
Modifieds – 1. William Gould; 2. Mike Petersilie; 3. Mike Van Genderen; 4. Chris Elliott; 5. David Goode Jr.; 6. Chris Bragg; 7. Matt Guillaume; 8. Brandon Clough; 9. Dustin Robinson; 10. Mark Adams; 11. Mark Carrell; 12. Justin Radcliff; 13. Brent Gilliam; 14. Cameron Wilson; 15. Josh McGaha; 16. John Aaron.
Southern SportMods – 1. James Hanusch; 2. Justin Nabors; 3. Gregory Muirhead; 4. James McCreery; 5. Jay Coone; 6. Kaden Honeycutt; 7. Wes Cummings; 8. Taylor Florio; 9. Colton Mon­roe; 10. Chris Florio; 11. Larry Underwood; 12. Evan Moore; 13. Mike Land.
Sport Compacts – 1. William Creese; 2. Scott Newbury; 3. Howard Watson; 4. Clifton Whisenant; 5. Harold Clifton; 6. Brian Schoenbaum Jr.; 7. Ryan Whisenant; 8. Pamela Whisenant; 9. Randy McNorton; 10. Colton Mooney; 11. Kaleb Watson; 12. Anthony Vandenberg; 13. Aubra Parker; 14. Steven Bevills; 15. Ethan Adams; 16. Kody Crofutt.