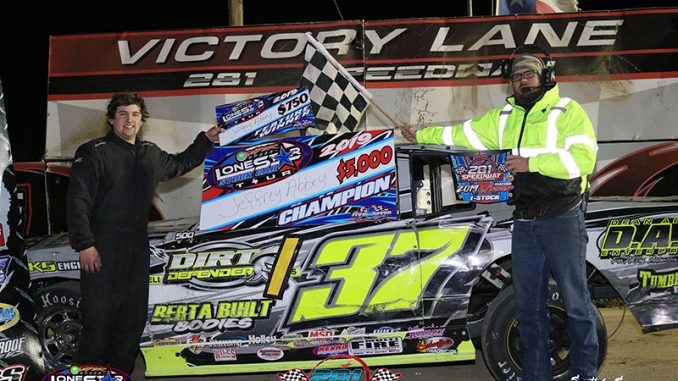 STEPHENVILLE, Texas (Feb. 23) – A career-first accomplishment led to a career payday for Jef­frey Abbey.
Abbey won the final two events of the Sniper Speed Lone Star tour Saturday at 281 Speedway, earning $750 for each feature victory and $5,000 for the IMCA Sunoco Stock Car tour crown.
"I've won two features in the same day before but not in the same division," said Abbey. "It's al­ways fun when you have cars from all over. It's fun to race with cars you haven't raced before."
Both features were moved to Stephenville because of weather in Kennedale and Friday features wound up being postponed to Saturday.
Abbey took his first $750 checkers of the day from the pole. Brother Dean pulled alongside before a late caution and Jeffrey held him off following the restart.
Aaron Benedict was third and Kyle Falck fourth. Jason Rogers won his 'B' feature, started 15th and rounded out the top five in the main event.
After starting sixth in the finale, Abbey ran third much of the way and hung around close to the front before catching Dan Cornelius with five laps left.
Falck, Cornelius and 14th starting Ryan Powers were next across the stripe. Curt Lund, winner of the other two tour features, was fifth.
"We'd struggled a little bit but still finished second and fourth here last weekend," Abbey said, "so it was good to come back here and win both shows."
Nearly 50 entries were on hand for the final day of the second annual tour. Abbey had also won the tour opener at Abilene.
Sixth starting John Gober was the Saturday IMCA Modified winner. Runner-up was William Gould and 10th starting Matt Guillaume was third.
Ryan Thomas started from the pole and bested a 20-car field in the rescheduled Smiley's Racing Products Southern SportMod feature. Chris Florio was second and David Bolf third.
James Hanusch led the way to the checkers in the scheduled feature. Christopher Wilhite ran second with Michael Martin and Garett Rawls completing the top four after starting 16th and 14th, respectively.
William Creese topped the first Mach-1 Sport Compact feature, in front of ninth starting Ryan Ellis and 11th starting Brian Schoenbaum Jr.
Schoenbaum, Creese and Scott Newbury ran 1-2-3 in the 4-cylinder nightcap.
Rescheduled Feature Results
Stock Cars – 1. Jeffrey Abbey; 2. Dean Abbey; 3. Aaron Benedict; 4. Kyle Falck; 5. Jason Rog­ers; 6. Elijah Zevenbergen; 7. Craig Moss; 8. Westin Abbey; 9. G.W. Egbert IV; 10. Kenny Wal­lace; 11. Michael Sheen; 12. Dean Cornelius; 13. Blake Clark; 14. Ryan Powers; 15. Tyler Muir­head; 16. Jordan Zilmer; 17. Curt Lund; 18. Jason Batt; 19. Dennis Bissonnette; 20. Hesston Shaw; 21. Colton Obergon; 22. Brandon Hood.
Southern SportMods – 1. Ryan Thomas; 2. Chris Florio; 3. David Bolf; 4. Frank Groove; 5. Wes Cummings; 6. James Hanusch; 7. Garett Rawls; 8. Taylor Florio; 9. James McCreery; 10. Jon White; 11. Justin Nabors; 12. Matt Doescher; 13. Craig Moran; 14. Christopher Wilhite; 15. Kyle Wilkins; 16. Gregory Muirhead; 17. Todd West; 18. James Guyton; 19. Kevin Manning; 20. Thomas Blackwell.
Sport Compacts – 1. William Creese; 2. Ryan Ellis; 3. Brian Schoenbaum Jr.; 4. Howard Wat­son; 5. Steven Bevils; 6. Harold Clifton; 7. Clifton Whisenant; 8. Pamela Whisenant; 9. Ryan Whisenant; 10. Scott Newbury; 11. Randy McNorton; 12. Kaleb Watson; 13. Amy Japort.
Scheduled Feature Results
Stock Cars – 1. Jeffrey Abbey; 2. Falck; 3. Cornelius; 4. Powers; 5. Lund; 6. Joe Bellm; 7. Sheen; 8. Tripp Gaylord; 9. Bissonnette; 10. Jody York; 11. Shelby Williams; 12. Tony Hardisty; 13. Troy Burkhart; 14. Egbert; 15. Travis Baird; 16. Muirhead; 17. Moss; 18. Clark; 19. Cody Shoe­maker; 20. Dean Abbey; 21. Rogers; 22. Wallace.
Modifieds – 1. John Gober; 2. William Gould; 3. Matt Guillaume; 4. Josh McGaha; 5. Jamie Camp­bell; 6. Ronnie Bell Jr.; 7. Mike Moore; 8. Dillon Tindall; 9. Nathan Renfro; 10. Brent Gilliam; 11. Drew Garcia; 12. Aaron Patterson; 13. Cody Shoemker; 14. Evan Pardo.
Southern SportMods – 1. Hanusch; 2. Wilhite; 3. Michael Martin; 4. Rawls; 5. Guyton; 6. Black­well; 7. West; 8. Eddie Grmela; 9. Taylor Florio; 10. Chris Florio; 11. Kaden Honeycutt; 12. Muir­head; 13. Blake Andrus; 14. Thomas; 15. Nathan Arms; 16. Bolf; 17. White; 18. McCreery; 19. Nabors; 20. Manning.
Sport Compacts – 1. Schoenbaum; 2. Creese; 3. Newbury; 4. Bevils; 5. Ellis; 6. Clifton Whisenant; 7. Clifton; 8. Howard Watson; 9. McNorton; 10. Kaleb Watson; 11. Pamela Whisenant; 12. Rick Saupp.