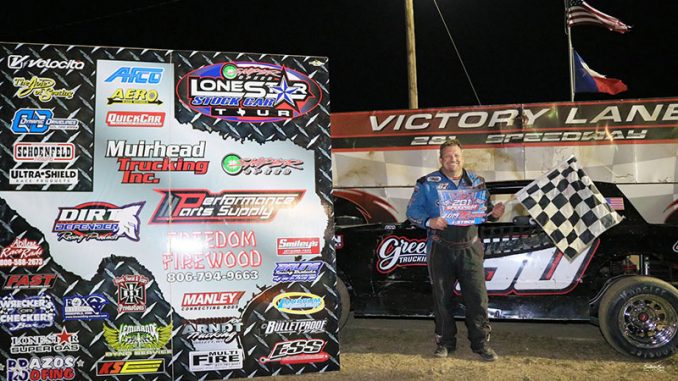 STEPHENVILLE, Texas (Feb. 18) – The top line took Curt Lund to his second $750 Sniper Speed Lone Star Tour feature win in as many nights Monday at 281 Speedway.
Lund posted back-to-back checkers by making a strong run on the outside groove. The top five in the fleet IMCA Sunoco Stock Car field represented as many different states, as Elijah Zevenber­gen, Hesston Shaw, Dean Abbey and Joe Bellm chased Lund across the stripe.
Lund had started third and dropped back a couple spots. He worked his way back toward the front, taking over the lead for good on lap 10.
Gregory Muirhead and Clifton Whisenant both raced from eighth starting spots to win the Smiley's Racing Products Southern SportMod and Mach-1 Sport Compact main events, respectively.
Justin Nabors and James Hanusch completed the SportMod top three. William Creese was the runner-up and Harold Clifton finished third in the Sport Compact feature.
Feature Results
Stock Cars – 1. Curt Lund; 2. Elijah Zevenbergen; 3. Hesston Shaw; 4. Dean Abbey; 5. Joe Bellm; 6. Dean Cornlius; 7. Jeffrey Abbey; 8. Westin Abbey; 9. Tyler Muirhead; 10. Jason Rogers; 11. Shelby Williams; 12. Kirk Martin; 13. G.W. Egbert IV; 14. William Gould; 15. Billy Wade; 16. Kyle Falck; 17. Tony Hardesty; 18. Jason Josselyn; 19. Ryan Powers; 20. Kyle Pfeifer; 21. Craig Moss.
Southern SportMods – 1. Gregory Muirhead; 2. Justin Nabors; 3. James Hanusch; 4. Taylor Florio; 5. Larry Underwood; 6. James McCreery; 7. Jay Coone; 8. Evan Moore.
Sport Compacts – 1. Clifton Whisenant; 2. William Creese; 3. Harold Clifton; 4. Pamela Whisenant; 5. Steven Bevils; 6. Kody Crofutt; 7. Howard Watson; 8. Ryan Whisenant; 9. Brian Schoenbaum Jr.; 10. Anthony Vandenberg; 11. Kaleb Watson.