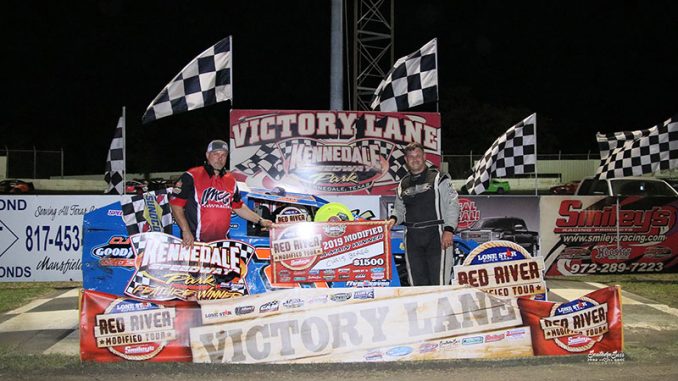 By Jackson Braun
KENNEDALE, Texas (May 25) – Career win number 100 for Chris Bragg came on the big stage of opening night of the Lone Star Super Gas IMCA Red River Modified Tour presented by Smi­ley's Racing Products.
Bragg led all 25 laps of a main event that ran caution-free Saturday at Kennedale Speedway Park, negotiating lapped traffic while holding off Tyler Stevens and Chris Morris. Bragg became the 55th driver in division history to reach the 100-win mark with the $1,500 Fast Shafts All-Star Invitational ballot qualifying victory.
"This is definitely a career highlight. I've qualified at Super Nationals a couple times and I've been elected to the All-Star race. To do this is pretty cool, too," he said. "It's been a lot of work but it's been a lot of fun. As a family, we've enjoyed racing for 25 years. I wouldn't have had it any other way."
The Razor Chassis South Central Region champion in 2007, Bragg has collected double digit feature wins in four seasons and six career track titles.
"I got my first Modified when Boyd sanctioned. I built my first car from a kit I bought from Speed­way Motors. A lot has changed since I started racing. It has evolved greatly," said Bragg, kept busy afterwards by congratulatory phone calls and text messages. "I haven't raced as much lately be­cause our family businesses (take precedent) but we're going to keep racing and having fun."
One hundred and forty-nine entries saw action on opening night at KSP, including 62 Modifieds, 44 Smiley's Racing Products Southern SportMods and 43 IMCA Sunoco Stock Cars.
Gary Williams and Ryan Powers claimed front row starting positions for the Stock feature. Wil­liams got out to the lead and held off Powers for the whole contest.
Powers dug in too deep on the final lap, almost spinning out. He recovered to finish third behind Jeffrey Abbey.
Damon Hammond and Michael Dabney led the SportMod field to green. Hammond got the ad­vantage going into the corner. Fresh from racing the Stock Car feature, Hammond was soon bom­barded by Bonham Motorsports teammates Nick Clinkenbeard and Greg Frazer.
Frazer found something on the outside line and catapulted into the lead by lap three. Clinken­beard followed suit and was able to clear Hammond by lap six.
Right after halfway through the 20-lap contest, something went awry on Frazer's machine and he passed the lead off to Clinkenbeard. From that point on, Clinkenbeard continued to walk away from the rest of the field, claiming the Southern SportMod victory at Kennedale in back-to-back years.
Feature Results
Modifieds – 1. Chris Bragg; 2. Tyler Stevens; 3. Chris Morris; 4. Kevin Green; 5. Marvin Skinner; 6. Mark Carrell; 7. Cory Davis; 8. Matthew Martin; 9. Josh McGaha; 10. Drew Armstrong; 11. Brint Hartwick; 12. Fred Wojtek; 13. Dillon Pike; 14. John Gober; 15. Matt Guillaume; 16. Chris Elliott; 17. Jeff Taylor; 18. Beau Begnaud; 19. Cody Shoemaker; 20. David Goode Jr.; 21. Cody Tidwell; 22. Chuck Sanders; 23. Ronnie Bell; 24. Jeffrey Abbey; 25. Justin McCoy.
Southern SportMods – 1. Nick Clinkenbeard; 2. Jacob Pirkle; 3. Trevor Raney; 4. Kasey Kuyken­dall; 5. Jake Upchurch; 6. Blaine Shives; 7. Trevor Egbert; 8. James Skinner; 9. Kaden Honeycutt; 10. Kevin Rowland; 11. Gary Fox; 12. Casey Brunson; 13. Damon Hammond; 14. Don Ow­ens; 15. Kyle Wilkins; 16. Chris Cogburn; 17. Michael Dabney; 18. Justin Nabors; 19. Greg Frazer; 20. Bret Young; 21. Brian Flowers; 22. Ryan Thomas; 23. Jay Wells; 24. Tory Yant.
Stock Cars – 1. Gary Williams; 2. Jeffrey Abbey; 3. Ryan Powers; 4. Jacob Pirkle; 5. Dennis Bis­sonnette; 6. Billy Wade; 7. Jason Batt; 8. Westin Abbey; 9. Brandon Hood; 10. Dean Abbey, 11. Caleb Crenshaw; 12. A.J. Dancer; 13. Damon Hammond; 14. Tyler Muirhead; 15. Cody Shoe­maker; 16. Kirk Martin; 17. Craig Moss; 18. Jerrett Bransom; 19. Dustin White; 20. Gary Kerr Jr.; 21. Markiss Harcrow; 22. Brad Ekstrom; 23. George Egbert; 24. Tobie Talk.