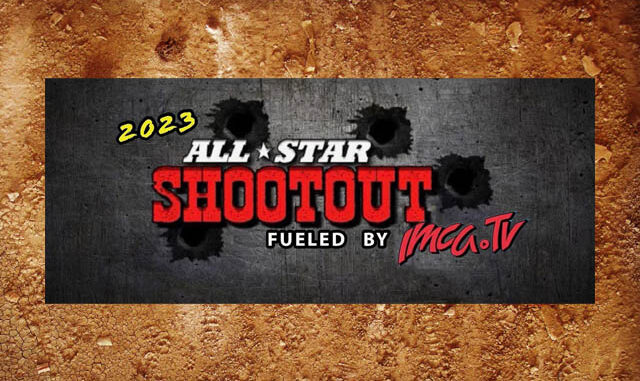 KENNEDALE, Texas (May 27, 2023) – Brenda Kirby wasn't sure who was starting where behind her, but she made sure everyone finished behind her in Saturday night's All Star Shootout Friesen Performance IMCA Modified main event.
The Arizona visitor started on the pole for the headline feature at Kennedale Speedway Park and chased Californian Troy Morris III the first 10 times around the track before taking the front spot for good.
She'd hold off Jake Upchurch and Chad Melton after a restart with seven laps left, earning $1,000 and Fast Shafts All-Star Invitational qualifying eligibility for her first win of the season.
"We weren't even sure we were going to make the main," the speedster from New River said, after getting into the wall while running second to Morris in their heat race. "We worked on the car right up to the end of the Stock Car feature. I watched the last five laps of the SportMod feature, went back and made some changes."
"I'm not even sure I saw the lineup. I didn't know where anyone was starting behind me, only that Troy was to the outside of me on the front row."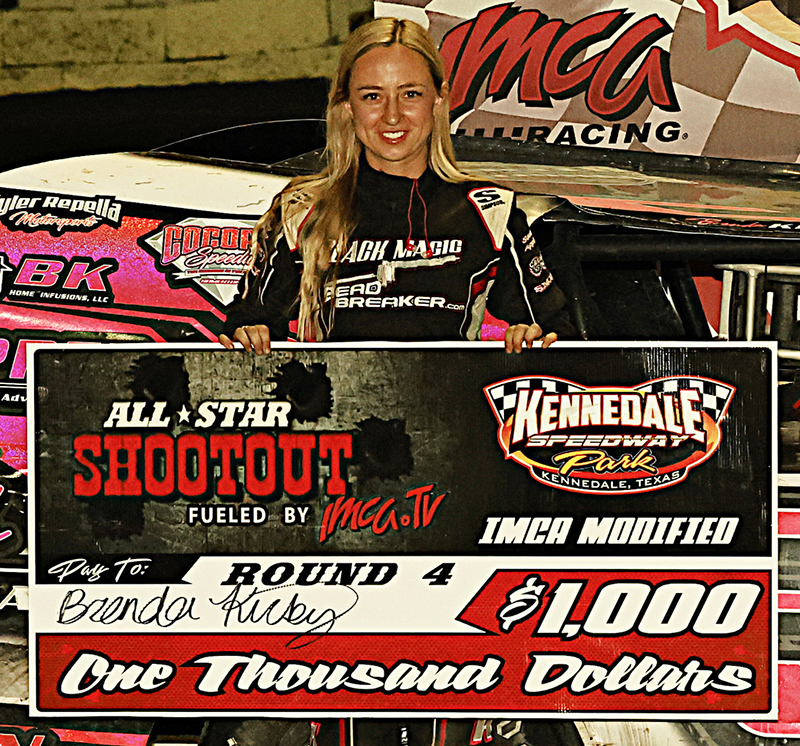 Arizona driver Brenda Kirby led the last 15 laps in winning Saturday's Friesen Performance IMCA Modified All Star Shootout feature and $1,500 at Kennedale Speedway Park. (Photo by Mike Frieri)
She'd never run at any of the first four tracks on the tour before, or with Troy Morris on the West Coast prior to the 2023 Shootout.
The front five cars had broken away before Kirby took the lead on lap 11. Back-to-back cautions came out on lap 13, the second of them sending Matthew Day from the top five to the back of the field for the restart.
Upchurch and Melton ran 2-3 from that point. Garrett Gregory was fourth, William Gould fifth.
"I knew once we caught the lappers that I would need to get a good run and take advantage of my opportunity when it came," said Kirby. "Then I knew if I could keep my car straight, smooth and on the bottom, I'd be all right."
Kirby's father, long-time driver Mike, is now her crew chief and tow rig driver. She'd been following the Shootout with fiancé Chris Morris, the Saturday winner at Cotton Bowl Speedway, where he is the defending track champion.
Shelby Williams won his third IMCA Sunoco Stock Car feature in four All Star Shootout starts, taking the $750 checkers ahead of Thomas Hall Jr. and David Goode Jr.
And Brandon Geurin became the fourth different Smiley's Racing Products IMCA Southern SportMod winner, leading start to finish and earning $750. Ninth starting Jon White was second and Trevor Cogburn took third.