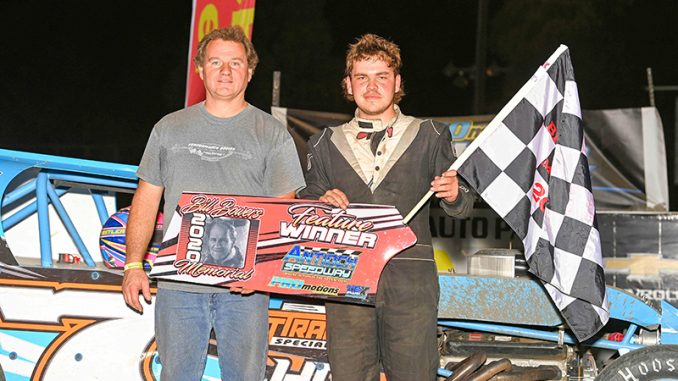 ANTIOCH, Calif. (Oct. 2-3) – Jacob Hobscheidt was feeling a twinge of seller's remorse Saturday night at Antioch Speedway.
Behind the wheel of the 2017 GRT he'd sold to Sean Wilson two years ago, the Plattsmouth, Neb., driver led all but two laps of the inaugural Bill Bowers main event for IMCA Modifieds in racing to a career-best $5,000 payday.
"I would gladly take that car back now," said the new Fast Shafts All-Star Invitational ballot qualifier. "I didn't expect to win but everything worked out pretty good for us."
Hobscheidt had started from the pole and led the first 29 times around the track. Troy Foulger, who'd swept the weekend IMCA Sunoco Stock Car features at Antioch, led the next two circuits before Hobscheidt got the front spot back and stayed there until the end of the 40-lapper.
The feature was slowed by just two cautions and Hobscheidt put some distance ahead of the second-running Foulger following the lap 36 restart.
"Antioch is one of a kind. I haven't been on a bullring like that in over a year but I couldn't have asked for a better weekend," said Hobscheidt, who led start to finish in Friday's 30-lap qualifier. "I've done a few 40 lappers and one 50 lapper before but this is the first long distance race I've won."
Nick DeCarlo, William Gould and Bobby Hogge IV rounded out the top five.
Guy Ahlwardt also banked a career best payday, in this case $2,570, after leading the last five laps of the Saturday Karl Kustoms Northern Sport Mod feature. Ryan Brown added the $70 to top Ahlwardt's previous best by $20.
Fred Ryland had started from the pole and paced the first 35 laps of what proved to be a caution-free 40-lapper.
"It was a lot of work. I had to be patient and hit my marks," said Ahlwardt, who made his way past Ryland in lapped traffic.
"We fought the setup all weekend," he continued, adding a shout out to crewman Vince Pokrywka. "I live about eight minutes from the track so we took the car home Saturday morning, went back to what we knew best and the car was on point."
In the division's debut at Antioch, Foulger piloted a Stock Car borrowed from Dave Lincoln to a pair of $1,000 checkers, making use of Ryland's nearby shop following engine issues that cut his Thursday practice by more than half and again after the opening night win.
Loren De Armond was the runner-up in Friday's green to checkered 20-lapper. Second in Saturday's 25-lap show went to Nicholas Johnson.
"We got an opportunity to race a Stock Car and tried to make the best of it," Foulger said. "Stock Cars are really fun to drive and it's cool to see how close they race on the track I look forward to seeing this class continue to grow in California."