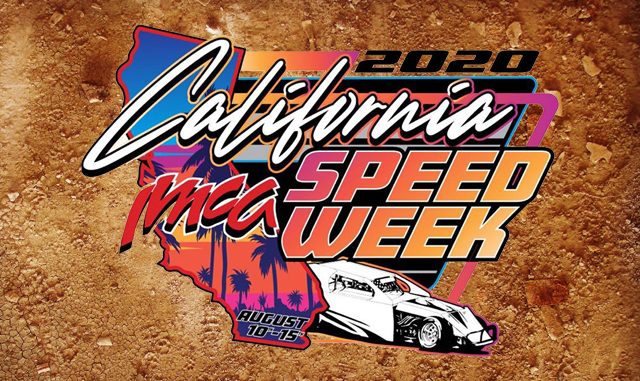 MERCED, Calif. – California is the place Modified and Northern SportMod drivers will want to be, for the inaugural California IMCA Speedweek Aug. 10-15.
IMCA Modifieds race for $1,000 to win their Fast Shafts All-Star Invitational ballot qualifying fea­tures while Karl Kustoms Northern SportMods chase $750 top checks each night.
The inaugural California IMCA Speedweek presented by Hoppes Motorsports opens next Mon­day at Placerville Speedway, then travels to Petaluma Speedway on Aug. 11; to Antioch Speed­way on Aug. 12; to Merced Speedway on Aug. 13; to Keller Auto Speedway in Hanford on Aug. 14; and to Bakersfield Speedway for the Aug. 15 finale.
All events are draw/redraw. Modified features pay $100 to start, Northern SportMod features $75, with IMCA Speedway Motors Weekly Racing National, Shaw Race Cars Western Region and KMJ Performance State points, in addition to series points at stake.
Top five drivers in standings for each division receive point fund shares, in increments of $1,000, $400, $200, $100 and $100 for the Modifieds and $700, $300, $200, $100 and $100 for the North­ern SportMods.
Nightly entry fee for drivers who did not pre-register is $20. Pit passes each night are $45. All events will be broadcast on Speed Shift TV and FloRacing.
Placerville opens the pit gate at 11 a.m. with the drivers' meeting at 4:45 p.m. and cars on the track at 5:15 p.m.
At Petaluma, the gate opens at noon, the drivers meeting is at 3:45 p.m. and racing starts at 5:30 p.m.
Pits open at 2 p.m. at Antioch. The drivers' meeting is at 4 p.m. and racing is at 5 p.m.
Merced also opens the pits at 2 p.m., the drivers' meeting is at 5:30 p.m. and racing is at 7 p.m.
Pit gates open at 1 p.m., the drivers' meeting is at 5:30 p.m. and the first green flag flies at 7 p.m. sharp at Keller. 
And at Bakersfield, pits open at 3 p.m., the drivers' meeting is at 5:30 p.m., hot laps are at 6 p.m. and racing gets underway at 7 p.m.
Camping is allowed at each track but drivers and fans following Speedweek are reminded that no fires will be allowed.
Several tracks will have Covid-19 forms to be filled out. Information about those forms is available from those tracks.
Information is posted and updated on the California IMCA Speedweek Facebook page.