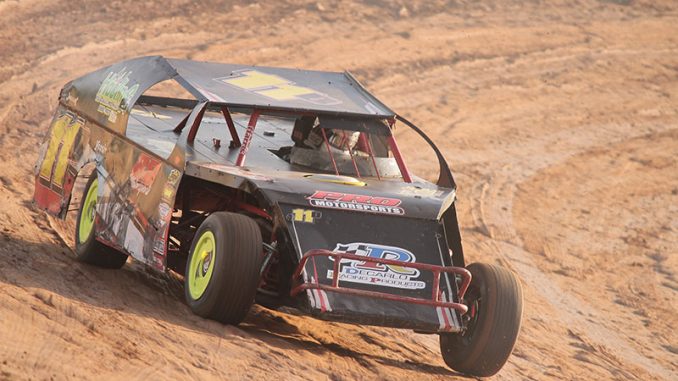 PLACERVILLE, Calif. (April 27) – The IMCA Modified driver who plans to make 2019 a learning season took his Donnie Tilford Tribute foes to school at Placerville Speedway. 
Danny Wagner led every lap of the 25-lap Saturday night main event, complementing his career first win in the division with a $1,500 check and a Fast Shafts All-Star Invitational berth.
"It was pretty great," Wagner said following the first start of his third IMCA season. "I had Troy Foulger close behind me and could hear him all the way. I saw him quite a few times."
Wagner had started outside Foulger on the front row. He made the best use of the higher line, getting strong restarts after every caution in outrunning Foulger to the checkers.
Nick DeCarlo, Tim Balding and Ray Trimble rounded out the top five finishers in a stellar field of Larry Shaw Race Cars Western Region competitors.
Wagner logged 17 outings in his rookie campaign and then a handful of starts, most of them at Ocean Speedway, last year.
He's planning to run a partial schedule at Watsonville again this season and return to Las Vegas Motor Speedway for the Duel In The Desert in November. His schedule will be 100 percent IMCA in 2020. 
"I want to make this year a learning season," said Wagner, who does double duty in a dwarf class. "There's a big learning curve, but we've already learned a lot. There's a lot more that goes into a Modified, more setup and more attention."
Fred Ryland banked $500 for his Karl Kustoms Northern SportMod victory.
Ryland had started seventh and also committed to the high side of the oval, passing Mark Garner for the front spot and then pulling away.
Traffic became an issue late in the 20-lapper but Ryland wasn't to be denied his second sanctioned victory of the season.
Garner, Guy Ahlwardt, Brian Cooper and Andrew Peckham were scored second through fifth, respectively.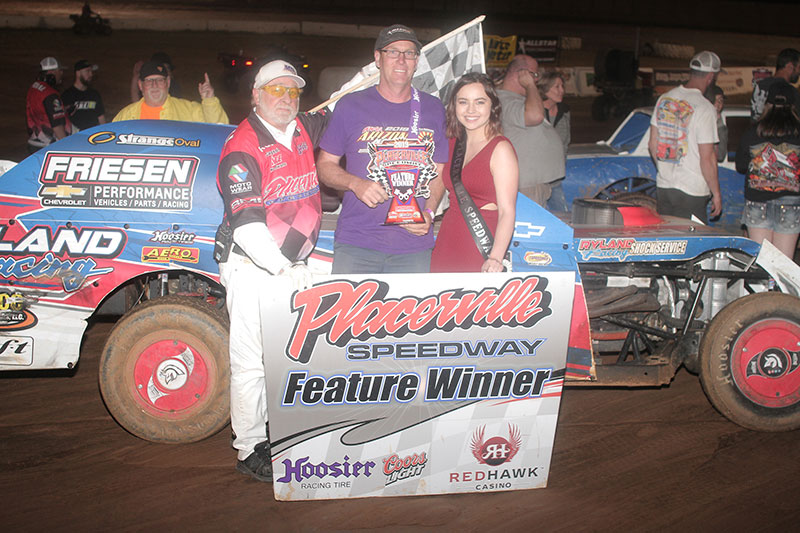 Feature Results
Modifieds – 1. Danny Wagner; 2. Troy Foulger; 3. Nick DeCarlo; 4. Tim Balding; 5. Ray Trimble; 6. Buddy Kniss; 7. Kellen Chadwick; 8. Ryan Porter; 9. Justin Foux; 10. Freddie Plourde; 11. Harley Turner; 12. Denny Robblee; 13. Chester Kniss; 14. Ryan McDaniel; 15. Raymond Lindeman; 16. Paul Gouglielmoni; 17. Bobby Hogge IV; 18. Anthony Slaney; 19. Dylan Schriner.
Northern SportMods – 1. Fred Ryland; 2. Mark Garner; 3. Guy Ahlwardt; 4. Brian Cooper; 5. Andrew Peckham; 6. Todd Cooper; 7. Tanner Thomas; 8. Les Friend; 9. Kenny Schrader; 10. Mike Merritt; 11. K.C. Keller; 12. Jimmy Ford; 13. Adrian Desousa; 14. Patti Ryland; 15. Nick Caughman; 16. Chuck Golden; 17. Scott Savell; 18. Jason Ferguson; 19. Phillip Shelby; 20. Timothy Allerdings; 21. Jeremy Phillips; 22. Jim Waller; 23. Mike Smith.