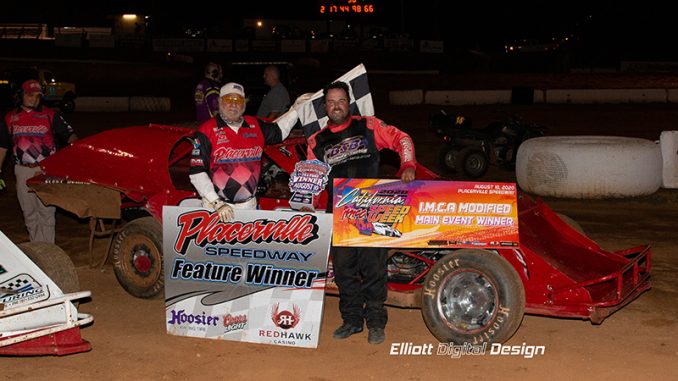 By Stephanie Deatherage 
PLACERVILLE, Calif. (Aug. 10) – Bobby Hogge IV made history on a history-making night for the inaugural California IMCA Speedweek.
Placerville Speedway had the honor of opening the first-ever Speedweek event, presented by Hoppes Motorsports and 51 IMCA Modifieds and 36 Karl Kustoms Northern SportMods contended.
Hogge earned $1,000 and a 2021 Fast Shafts All-Star Invitational ballot nod for his Modified victory while Garrett Jernagan took the $750 Northern SportMod checkers.
Polesitter Hogge struck first on the opening lap to beat the field to the wire. Consecutive cautions kept the field bunched up preventing the Salinas standout from developing a large lead and Hogge soon had his hands full with a hard-charging Danny Wagner.
Wagner slipped past Hogge on lap six only to lose the lead on the following trip past the flag stand. Hogge reclaimed the front spot and built a decent advantage during long green flag runs.
Around halfway, Shane DeVolder applied loads of pressure on the leader and eventually took over the top position on the 21st circuit. However, DeVolder lost the lead on the next lap as he went over the cushion in the final sets of turns.
Back in front, Hogge cruised around in the final eight circuits to win ahead of Nick DeCarlo and DeVolder.
Jason Bannister had the car to beat early in the Northern SportMod main, building a comfortable lead before hitting heavy lapped traffic just past the halfway. On lap 18, fellow Bakersfield racer Jernagan stormed around the outside to take over the lead. 
A lap nineteen red flag incident set things up to where Jernagan would have open track for a late restart.  Jernagan, who had started seventh, pulled away and went unchallenged.  Bannister was second over Kc Keller.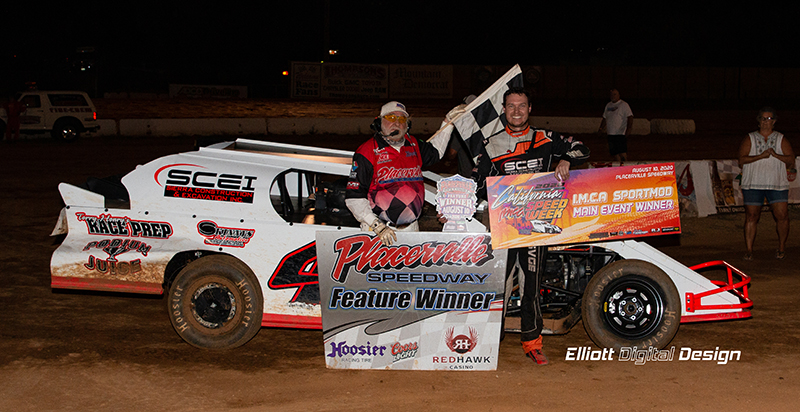 Garrett Jernagan took the lead on lap 18 and could not be caught following a late restart in the California IMCA Speedweek main event for Karl Kustoms Northern SportMods at Placerville. (Photo by Steve Elliott, Elliott Digital Design) 
Feature Results
Modifieds – 1. Bobby Hogge; 2. Nick DeCarlo; 3. Shane DeVolder; 4. Robby Sawyer; 5. Paul Stone; 6. Jim Pettit II; 7. Jake Pike; 8. Tom Smith; 9. Bll Wilker; 10. Jeff Faulkner; 11. Michael Thing; 12. Ryan Daves; 13. Randy Shafer; 14. Kellen Chadwick; 15. Brian Cass; 16. Troy Folger; 17. Danny Wagner; 18. Cody Burke; 19. Darrell Hughes II; 20. Zane DeVilbiss.
Northern SportMods – 1. Garrett Jernagan; 2. Jason Bannister; 3. K.C. Keller; 4. Brian Cooper; 5. Andrew Peckham; 6. Matt Micheli; 7. Fred Ryland; 8. Brent Curran; 9. Andrew Pearce; 10. Todd Gomez; 11. Chuck Weir; 12. Kenny Shrader; 13. Tanner Thomas; 14. Tim Allerdings; 15. Doug Hagio; 16. Joe Salvi; 17. Scott Foster; 18. Kenny Neu; 19. Aaron Farrell; 20. Kyler Reynolds