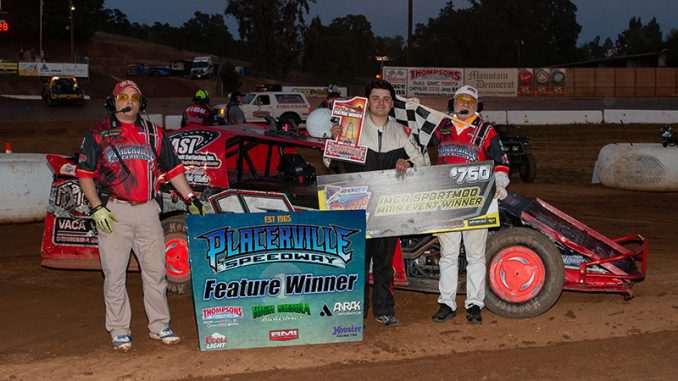 By Stephanie Deatherage 
PLACERVILLE, Calif. (May 7) – Round seven of the California IMCA Speedweek presented by Hoppes Motorsports took IMCA Modifieds and Karl Kustoms Northern SportMods to Placerville Speedway, where Ethan Dotson and Andrew Pearce ended the night in victory lane.
In the IMCA Modifieds twenty-five lap feature, Jim Pettit motored his way to lead the first circuit ahead of Clint Reichenbach before two early cautions.
Once the field got going again, Pettit took off with a strong run. Reichenbach hunted down and passed Pettit but the caution came out on lap nine before the entire circuit could be complete.
The front two battled hard after the green light came back on. Dotson, who started 17th and after transfer­ring out of the 'B' main, went into the fray to make it a three-car battle for the lead. Dotson moved into second and was on his way to the front only for the yellow to come back out with 14 laps down.
When the action resumed, Dotson went straight to work on Pettit, taking the top position on lap 15. The rest of the race went incident-free, and Ethan dominated the distance.
Reichenbach, Pettit, Kellen Chadwick and Cody Burke ran second through fifth, respectively.
For the 25-lap Northern SportMod feature, Pearce and Kenny Shrader battled for the lead before an early caution. When the green flag unleashed the field again, Pearce had to fend off Shrader and Jason Nation.
As the next green flag run developed, Nation reeled Pearce and got alongside the leader before their battle was put on pause for a yellow on lap 16. Two more restarts came about before Pearce hit all his marks the last four times around the track and scored the feature win.
Nation was second with Tyler Bannister ending in third. Shrader and 'B' transfer Josh Most completed the top five.