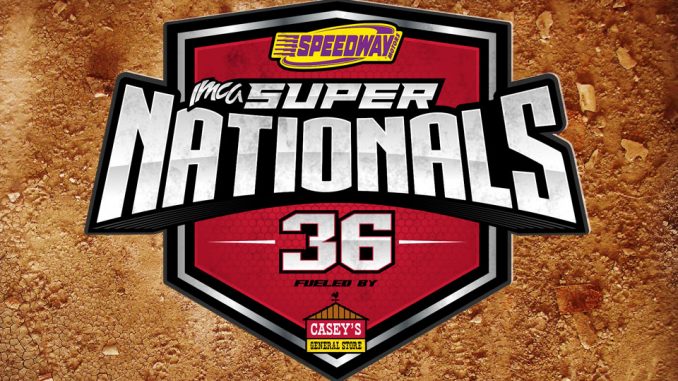 BOONE, Iowa – The number of drivers already entered for the Sept. 3-8 IMCA Speedway Motors Super Nationals fueled by Casey's is impressive.
So are all the states they're coming to Boone Speedway from, to be part of America's Racin' Vacation.
"Our pre-registration numbers are over 500 and running ahead of last year. What's really neat to see is the number of different states (26 so far, plus Canada and Australia) that are represented by early entries," noted IMCA President Brett Root.
"We pride ourselves on having a set of rules that allows drivers to go to any sanctioned track in the country and know they'll be legal when they get there," he continued. "That's one reason why so many drivers from so many different places make Super Nationals their racing vacation every September."
The record for different states represented at Super Nationals is 27, matched most recently two years ago.
"The atmosphere at Boone is a huge draw. There are a lot of big events but Super Nationals is unique," Root said. "Another thing drivers and fans like about Super Nationals is that the format is already familiar. The biggest difference from last year's schedule is that the Deery Brothers Series is back on the opening night program Monday."
Late Models following the Deery Series share the Labor Day card with qualifying events for Hobby Stocks and Northern SportMods. The complete Sport Compact program is on Tuesday, Sept. 4 along with more qualifying races for Hobby Stock and SportMod main events and races of champions.
Last-chance qualifying for those two divisions is Sept. 5; Modified and Stock Car qualifying starts on Wednesday and continues Thursday, Sept. 6 and Friday, Sept. 7. Race of champions qualifying for the Modifieds and Stock Cars is on Thursday; Friday's race program also features the Fast Shafts All-Star Invitational.
Last-chance qualifying, races of champions and Modified, Stock Car, Hobby Stock and SportMod features bring the 36th Super Nationals to a close on Saturday.
With bonuses, potential winner's shares of championship events are $7,000 for the Modifieds, $3,500 for the Late Models and Stock Cars, $2,250 for the SportMods, $1,850 for the Hobby Stocks and $500 for the Sport Compacts.
Drivers must be pre-registered and must attend the national awards banquet in November to receive their bonus.
A purse of more than $300,000 will be paid out over the course of Super Nationals, with some $60,000 in contingency awards to be given as well.
Drivers in all divisions except the Late Models competing at Super Nationals must pre-register online. That form can be found at www.imca.com and www.raceboone.com under the Super Nationals menu and drivers who do not already have a MyRacePass account can create one when they go to that link.
In addition to the discounted entry fee, pre-registered drivers become eligible to compete in the Sept. 1 Prelude at Boone.
That event, as well as the entire week of Super Nationals, will be broadcast by IMCA.TV.
Drivers now pre-registered for Super Nationals are:
Modifieds
Chris Abelson, Sioux City; John Ahlers, Bettendorf; Chance Allen, Alma, Mich.; Drew Armstrong, Alexander, Ark.; Robert Avery, Des Moines; Chaz Baca, Mesa, Ariz.; Shayne Bailey, Lathrop, Mo.; Curtis  Barnes , Lindsborg, Kan.; Brock Bauman, Eureka, Ill.; Jayden Bears, Smithville, Mo.; Tommy  Belmer, Evansdale; Tom Berry, Newburg, N.D.; Dennis Betzer, Central City; Kevin Bliese, Bath, S.D.; Josh Blumer, Marysville, Kan.; Steven Bowers Jr., Topeka, Kan.; Kyle Brown, Madrid; David Brown, Kellogg; Randy  Brown, Chowchilla, Calif; and Corey Burch, Junction City, Kan.
Joel Bushore, Boone; Jeffrey Cardinale, Syracuse, N.Y.; Cayden Carter, Oskaloosa; Chris Carter, Red­field, Ark.; Rob Charapata, Green Bay, Wis.; Drew Christianson, Minot, N.D.; Chad Clancy, Polo, Mo.; Tim Clark, Great Bend, Kan.; Duane Cleveland, Olivehurst, Calif.; Brandon Clough, Wallace, Neb.; Jimmy Cole, Sioux City; Tony Cox, Ames; John Crytser, Colorado Springs, Colo.; Timothy Culp, Prattsville, Ark.; Shane DeMey, Denison; Shane DeVolder, Pacifica, Calif.; Brenten DeYoung, Carson City, Mich.; Myron DeYoung, Crystal, Mich.; Russell Dickerson, Boone; and Ethan Dotson, Bakersfield, Calif.
Scott Drake, Diamond, Mo.; Corey Dripps, Reinbeck; Justin Dunn, Riverside, Calif.; Joe Duvall, Claremore, Okla.; Bruce Egeland, Marshall, Minn.; Chris Elliott, Abilene, Texas; Eric Elliott, Boone; Grey Ferrando, Stayton, Ore.; Bob Fleshman, Merrill; Kelsie Foley, Tucson, Ariz.; Randy Foote, Stanton; Troy Foulger, Oakley, Calif.; Tyler Frye, Belleville, Kan.; Josh  Gilman, Earlham; James Goodson, Little Rock, Ark.; Mike Goodson, Overbrook, Okla.; William Gould, Calera, Okla.; Matt Guillaume, Haslet, Texas; and Jimmy Gustin, Mar­shalltown.
Travis Hatcher, Honey Creek; Clint Hatlestad, Glencoe, Minn.; Randy Havlik, Ankeny; Shane Hi­att, Rising City, Neb.; Jason Hickingbottom, Ogden; Garrett Higgins, New Waverly, Texas; Jeffrey Hoegh, New Caney, Texas; Anthony Hofbauer, Huxley; Scott Ho­gan, Vinton; Racer Hulin, Laurel; Mitchell Hunt, Greenville, Mich.; Jeff Hunter, Henderson, Colo.; Gavin Hunyady, Fenton, Mich.; Terry Hurt, Omaha, Neb.; Ryan Jenkins, Omaha, Neb.; Michael Jergens, Havelock; Kody Johnson, Vestaburg, Mich.; Brenda Kirby, Bullhead City, Ariz; and Mike Kirby, Bullhead City, Ariz.
Trey Kline, Schleswig; Kevin Kloke, Blair, Neb.; Brian Knoell, Falun, Kan.; Dustin Kroening, Heb­ron, Ill.; Aaron Krohn, Slayton, Minn.; Corey LaGroon, Salina, Kan.; Cody Laney, Torrance, Calif.; Brandon Leeman, Roland; Gat Leytham, Toledo; Mike Lineberry, Fremont, Neb.; Josh Long, Little Suamico, Wis.; Brandon Long, Abrams, Wis.; Trent Loverude, New Ulm, Minn.; Clinton Luellen, Minburn; Christopher Luttmer, Saint Jo, Texas; Michael McCarthy, Hutto, Texas; Randy McDan­iel, Olivehurst, Calif.; Ryan McDaniel, Olivehurst, Calif.; Griffin  McGrath, Cedar Rapids; and Rich­ard McNeal, Towanda, Pa.
Raymond McSpadden, Buda, Texas; Tyler Madigan, Dubuque; Zachary Madrid, Phoenix, Ariz.; Josh May, Des Moines; Matthew Meinecke, Jamaica; Kayden Menasco, Muldrow, Okla.; Dan Menk, Franklin, Minn.; R.J. Merchant, Sioux City; Nick Meyer, Whittemore; Richard Michael, Hinsdale, N.Y.; Robert Miller, Gardnerville, Nev.; Jeremy Mills, Garner; Clay Money, Penokee, Kan.; Robert Moore, Sioux City; Joseph Mullins      Boulder, Colo.; Taylor Musselman, Urbandale; Joel Myers, Sebastopol, Calif.; Jordy Nelson, Marysville, Kan.; Jay Noteboom, Hinton; and Justin O'Brien, West Union.
Lawrence O'Connor, Port Hardy, B.C.; Scott Olson, Blairsburg; Chris Palsrok, Sibley; John Par­meley, Phoenix, Ariz.; Jeremy Payne, Buckeye, Ariz.; Mike Petersilie, Hoisington, Kan; Chad Por­ter, Madison Lake, Minn.; David Pries, Medaryville, Ind.; Tyler Prochaska, Iowa Falls; Bret Ram­sey, Waterloo; Craig Reetz, Dunlap; Jimmy Reeves, Albert, Kan.; Chett Reeves, Bakersfield, Ca­lif.; Terry Rentfro, Davenport; Dereck Rhoden, Farmington, N.M.; James  Richert, Comfrey, Minn.; Jesse Richter, Great Bend, Kan.; Anthony Roth, Columbus, Neb.; Joel Rust, Grundy Cen­ter; and Jaxon Saathoff, Beatrice, Neb.
Johnny Saathoff, Beatrice, Neb.; Cory Sample, Winnemucca, Nev.; Jeff  Sampson, Evansdale; Larry Sanders, Quinlan, Texas; Cory Sauerman, Johnston; Jason Schneiders, North Sioux City, S.D.; Kody Scholpp, Estevan, Sask.; Jeff Schroyer, Elkhorn, Neb.; Clay Sellard, Bucklin, Kan.; D.J. Shannon, Merced, Calif.; Kelly Shryock, Fertile; Todd Shute, Norwalk; Scott Simatovich, State Center; Riley Simmons, Susan­ville, Calif.; Andrew Smith, Rogersville, Mo.; Brad Smith, Horseheads, N.Y.; Scott Smith, West Branch, Mich.; Jon Snyder, Ames; Jason Snyder, Dunkerton; and Jessie  Sobbing, Malvern.
Joe Spillman, Austin, Texas; Jay Steffens, North Platte, Neb.; Ricky Stephan, South Sioux City, Neb.; Tyler Stevens, Searcy, Ark.; Todd Stinehart, Waseca, Minn.; Caleb Stone, Lovington, N.M.; Paul Stone, Winton, Calif.; Nicholas Stormzand, Lowell, Mich.; Stephen Streeter, Madera, Calif.; Kyle Strickler, Troutman, N.C.; Kevin Sustaire, Emory, Texas; Tyler Sutton, Beloit, Kan.; Matt Szecsodi, Clio, Mich.; Regan Tafoya, Farmington, N.M.; Lisa Taylor, Spring Creek, Nev.; Wade Taylor, Spring Creek, Nev.; John Taylor, Shepherd, Mich.; Chad Ten Napel, Sioux City; Jim Thies, Mapleton; and Ed Thomas, Waterloo.
Nate Thompson, Fremont, Neb.; Ricky Thornton Jr., Clive; Andy Tiernan, Madrid; Mike Van Gen­deren, Newton; Chase Vineyard, Davis, Okla.; A.J. Ward, Ionia, Mich.; Billy Ward, Cobleskill, N.Y.; Tim Ward, Chandler, Ariz.; Will Ward, Cobleskill, N.Y.; Clint Wendel, Mason City; Chad Wer­nette, Sheridan, Mich.; Brandon Williams, Platte City, Mo.; Ryan Williams, Waxahachie, Texas; Ben Wilson, Colo; Todd Wilson, Spickard, Mo.; Collen Winebarger, Corbett, Ore.; Albert Wolfgram, Boone; Jason Wolla, Ray, N.D.; and Kenny Wyman Jr., Avondale, Ariz. 
Stock Cars
Dean Abbey, Roanoke, Texas; Justin Addison, Norfolk, Neb.; Pete Alexander, Albert Lea, Minn.; Jason Anderson, Weldona, Colo.; Trace  Ayers, Brookville, Kan.; Brock Badger, Bagley; Travis Baird, Sharon, Okla.; Kevin Balmer, Garwin; Brian  Blessington, Breda; Andrew Borchardt, Plym­outh; David Brandies, Wilton; Randy Brands, Boyden; Austin Brauner, Platte Center, Neb.; Joe Brenner, New Berlin, Wis.; Shaun Bruns, Danube, Minn.; and Troy Burkhart, Hays, Kan.
Tom Cannon, West Branch; Cayden Carter, Oskaloosa; Brian Cesar, Sheboygan, Wis.; Bob Cha­lupa, McCook, Neb.; Norman Chesmore, Rowley; Jeremy Christians, Horicon, Wis.; Ronnie Christo­pher, Forney, Texas; Chad Clancy, Polo, Mo.; Tim Clonch, Quinlan, Texas; Mike Coel, Pulaski, Wis.; Caleb Crenshaw, Fort Worth, Texas; Brandon Czarapata, Pulaski, Wis.; Austin Daae, Estevan, Sask.; Russell Damme, Waterloo; Mikey Dancer, North Platte, Neb.; and Josh Daniels, Carlisle.
Dan Day, Princeton, Texas; Zach Dickie, Sheboygan Falls, Wis.; Mel Elsberry, Orange City; Aus­tin Evens, Waterloo; Kyle Everts, Holland; Marcus Fagan, Adair; Kyle Frederick, Oconto Falls, Wis.; Todd Gereau, Sioux City; Jason Goddard, St. Paul, Minn.; Jay Goosmann, Merrill; Craig Graham, Webster City; Derek Green, Granada, Minn.; Cody Gustoff, Scranton; Dan Hanselman, Algona; Cary Heinen, Fort Dodge; and J.J. Heinz, Green Bay, Wis.
Zach Hilzer, Fort Morgan, Colo.; David Holcomb, Kansas City, Kan.; Paul Holschuh, Greenleaf, Wis.; Abe Huls, Carthage, Ill.; Todd Inman, Altoona; Troy Jerovetz, Webster City; Adam Johnson, Inde­pendence; Reid Keller, Webster City; Jerry Leary, Little Suamico, Wis.; Logan Leary, Little Suamico, Wis.; Jake Ludeking, Decorah; Landon Maddox, Fairview, Okla.; Kevin Mattox, Ray, N.D.; Jeff McCollum, Mankato, Minn.; TeJay Mielke, Norfolk, Neb.; and Jack Miles, Midland, Texas.
Derek Moede, New Franken, Wis.; Carl Monroe, Sheldon; Jeff Mueller, Albion; Michael Murphy, Jefferson; Trent Murphy, Jefferson; Damon Murty, Chelsea; Justin Nehring, Storm Lake; Jake  Nelson, Williston, N.D.; John Oliver Jr., Danville; Kevin Opheim, Mason City; Chad Palmer, Renwick; Donnie Pearson, Oskaloosa; Tanner Pettitt, Norfolk, Neb.; Tyler Pickett, Boxholm; Co­rey Piffer, Indianola; and Tanner Portenier, Natoma, Kan.
Chris Pruitt, Stuart; Todd Reitzler, Grinnell; Rodney Richards, Madrid; Damon Richards, David City, Neb.; Bryan Rigsby, Topeka, Kan.; Jason Rogers, Selden, Kan.; Kevin Rose, Waterloo; Matt Schauer, Arlington, Minn.; Jerry Schipper, Dike; Jay Schmidt, Tama; Jason Schoenberger, Rus­sell, Kan.; Bryan  Schutte, Wayne, Okla.; Jason See, Albia; Hesston Shaw, Hennessey, Okla.; Jesse Smith, Boxholm; and David Smith, Lake City.
Devin Smith, Lake City; Donavon Smith, Lake City; Johnny  Spaw, Cedar Rapids; Joe Spillman, Austin, Texas; Dusty Springer, Colby, Kan.; Josh Steele, Platte City, Mo.; Robert  Stofer, Jeffer­son; Aaron Stolp, Suamico, Wis.; Shane Stutzman, Milford, Neb.; Tobie Talk, Hawley, Texas; Jesse Taylor, Fort Morgan, Colo.; Gregory Taylor, Sioux City; Justin Temeyer, Independence; Ricky Thornton Jr., Clive; Chris Toot, Albert Lea, Minn.; and Darin Toot, Albert Lea, Minn.
Jeff Tubbs, Colby, Kan.; Kyle Vanover, Beatrice, Neb.; Dustin Vis, Cedar Rapids; Billy Wade, San An­gelo, Texas; B.J. Wagoner, Colby, Kan.; Kevin Wagoner, Sharon Springs, Kan.; Mathew West, Kel­lerton; Jaylen Wettengel, Topeka, Kan.; Jeff Whiting, Gothenburg, Neb.; Kyle Wilkinson, Ne­ligh, Neb.; Jason Wilkinson, Neligh, Neb.; Kodiak Wirtz, Menomonee Falls, Wis.; Nick Woodard, Elkhorn, Neb.; Elijah Zevenbergen, Ocheyedan; Allen  Zimmerman, Central City, Neb.; and Mark Zorn, Russell, Kan. 
Northern SportMods
Tyler Afrank, Norfolk, Neb.; Nate Albrant, Britt; Chase Alves, Chandler, Ariz.; Paul Atchison, Web­ster City; Jason Bass, Fort Dodge; Austen Becerra, Carthage, Ill.; Adam Birck, Canton, Mo.; Ethan Braaksma, Newton; Cody Brill, Harrisonville, Mo.; Keith Brown, Pittsburg, Calif.; Hunter Cantrall, Clay Center, Neb.; Nicholas Carpenter, Leavenworth, Kan.; Brayton Carter, Oskaloosa; Ben Chapman, Clarence; Matthew Crowell, Goddard, Kan.; Brandon Dale, Arbela, Mo.; Joe Docekal, Dysart; Wayne Dotson, Bakersfield, Calif.; Robert Draper, Valparaiso, Neb.; and Dennis Engelhaupt, Page, Neb.
Daniel Fellows, Keokuk; Colby Fett, Algona; Jarett Franzen, Maquoketa; Jason George, Laveen, Ariz.; Kevin Goben, Sherrard, Ill.; Eric Haase, Norfolk, Neb.; Joey Haase, Norfolk, Neb.; Jarred Hackler, Juniata, Neb.; Nic Hanes, Trenton, Mo.; Shawn Harker, Nebraska City, Neb.; Kent Haugland, Wesley; Andy Hunter, Independence; Tyler Inman, Altoona; Vern Jackson, Water­loo; Tim Judd, Wall Lake; Kyle Keller, Sidney, Mont.; Philip Keller, Sidney, Mont.; Eric Kin­netz, Milford; Anthony Kobus, David City, Neb.; and Brian Konz, LeMars.
Lucas Lamberies, Clintonville, Wis.; Tom Lathrop, Ottumwa; Jesse Levin, Salina, Kan.; Hunter  Longnecker, Woodward; Tara Longnecker, Boone; Austin Luellen, Minburn; Dustin Lynch, Boone; Sean Manning, Bennington, Neb.; Steve Mapp, Grimes; Dusty Masolini, Des Moines; Jake McBirnie, Boone; Shane Meeks, Abilene, Kan.; Brett Meyer, Lytton; Cameron Meyer, Pierce, Neb.; Joshua Moulton, Rush City, Minn.; Jarrod Mounce, Atwater, Calif.; Na­than  Mumm, Harlan; George Nordman, Mason City; Dallas Nutt, Armstrong; and Jared Nytroe, Brandon, S.D.
Jacob Olmstead, Overton, Neb.; Kyle Olson, Cedar Rapids; Brian Osantowski, Columbus, Neb.; Bo Partain, Casa Grande, Ariz.; Rodger Peck, Minneapolis, Kan.; Cory Pestotnik, Boone; Aaron Plum, Sioux City; Tony Rialson, Cottonwood, Minn.; Mark Rodgers, Farmington, N.M.; Ty Rogers, Somerton, Ariz.; Cory Rose, Boone; Darin Rothfus, Jefferson; Chase Rudolf, Prole; Chad Ryerson, Wellsburg; Jake Sachau, Denison; Arie Schouten, Blair, Neb.; Austin Schrage, Cresco; Brian Schrage, Cresco; Cody Schroeder, Manitowoc, Wis.; and Brandon Setser, Davenport.
Carter Shumski, Fairmont, Minn.; Doug Smith, Lansboro; Tyler Soppe, Sherrill; Dakota Sproul, Hays, Kan.; Ben Stockton, Kansas City, Mo.; Mitchell Strayer, Davenport; Austin Svoboda, David City, Neb.; Justin Svoboda, David City, Neb.; Brandon Tharp, Vinton; Cullen Thompson, Her­mann, Mo.; Cody Thompson, Sioux City; Tyler Titus, Baxter; Shawn Umentum, Green Bay, Wis.; Jeremy Van Ede, Adrian, Minn.; Curtis Veber, Polk City; Timothy Warner, Malone, Wis.; Bill Wears, Bondurant; Kyle Welch, Sioux City; Jaylen Wettengel, Topeka, Kan.; and Bryon Wun­schel, Early.
Hobby Stocks
Greggory Anderson, Perry; Shannon Anderson, New Virginia; Jeremiah  Andrews, Union; Adam Ayers, Adair; Daniel Ayers, Webster City; Nathan Ballard, Marengo; Tommy Beekman, Otho; Luke Bird, Winthrop; Jonathan  Boles, Sweetwater, Texas; Andrew Burg, Carlisle; Keith Burg, Carlisle; Tathan Burkhart, Hays, Kan.; Andrew Claus, Spencer; Jamie Coady, Colfax; and Bran­don Cox, Norwalk.
Bob Daniels, Des Moines; Kyle Davis, Hinton; Stephen Doss, Boone; Todd Fisher, Des Moines; Jacob Floyd, Cedar Rapids; Nick Foster, Menlo; Eric Gillette, Slayton, Minn.; Tim Gonska, Brain­erd, Minn.; Rusty Gyles, St. Charles; Matthew Hanson, Slayton, Minn.; Andy Hoffman, Sioux City; Tre­vor Holm, Chandler, Minn.; Luke Jackson, Sioux City; and Wes Jahnz, St. James, Minn.
Austin Jahnz, Lewisville, Minn.; Roger Jenniges, Echo, Minn.; Bryant Johnson, Graettinger; Darin Johnson, Dickens; James Johnson, Cherokee; Michael Kimm, Vinton; Jim Kimmel, Norfolk, Neb.; Par­ker Larson, Granada, Minn.; Adam Lee, Salix; Brint Lemke, Lincoln, Neb.; Billy Lindsey, Mer­kel, Texas; Zachary Lutz, Burlington, N.D.; Matthew McAtee, Elkhart; and Matt McDonald, Scran­ton.
Dillon Magnussen, Newell; Rowan Mason, Lincoln, Neb.; Lance Mielke, Norfolk, Neb.; Shawn Mouzakis, Waukee; Zach Olmstead, Overton, Neb.; Tyson Overton, Carlisle; Kyle Parizek, Hart­wick; Allison Pierce, Corning, N.Y.; Jeremy Purdy, Bedford; David Rieks, Eldora; Aa­ron  Rudolph, Grand Junction; Keeran Sampson, Worthington, Minn.; Malik Sampson, Worthing­ton, Minn.; and Aaron Shearn, Sioux City.
Bradley Sheetz, Winston, Mo.; Jay Sidles, Emmetsburg; Kyle Sidles, Algona; Zac Smith, Mason City; Bryce Sommerfeld, Fort Dodge; Eric Stanton, Carlisle; Cody Stone, Hobbs, N.M.; Jesse VanLan­ingham, Beatrice, Neb.; Jeff Ware, Columbus, Neb.; Cameron Wilkinson, Neligh, Neb.; Derek Willert, Marble Rock; Cody Williams, Minneapolis, Kan.; Jeremiah Wilson, Waterloo; and Shaun Wirtz, Boone.
Sport Compacts
Eric Alexander, Indianola; Matthew Brehmer, Sobieski, Wis.; Michael Brehmer, Oconto Falls, Wis.; Scott  Brown, Council Bluffs; Mitchell Bunch, Des Moines; Jay DeVries, Spencer; Kaytee DeVries, Spencer; Chuck Fullenkamp, West Point; John Gill, Marshalltown; Mychal Gorham, Boone; Jarad Gross, Spencer; Brock Klaith, Marshall, Minn.; Jeff  Klinkefus, Golden, Colo.; Brett Marshall, Maquoketa; Joe Mastin, Des Moines; David Norquest, York, Neb.; Hunter Patrick, St. Charles; Riley  Paysen, Wall Lake; Cory Peters, Spencer; Tim Thoennes, Oakdale, Minn.; Terry Tritt, York, Neb.; Tanner Uehling, Norfolk, Neb.; Ro­land Van De Hei, Green Bay, Wis.; and Nathan  Wahlstrom, Beatrice, Neb.