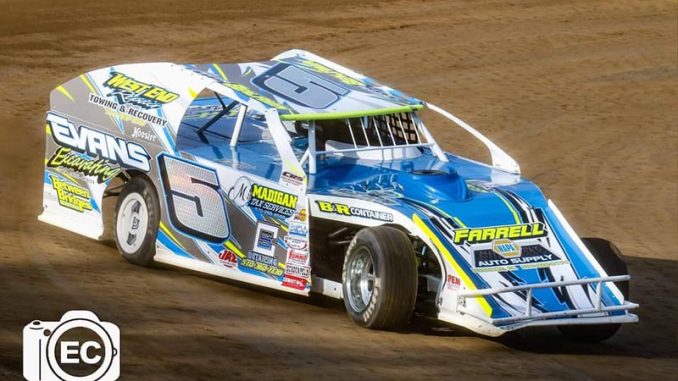 FORKSVILLE, Pa. – Aaron Benjamin has heard a lot of good things about Boone Speedway and the IMCA Speedway Motors Super Nationals fueled by Casey's.
This will be the first year he gets to experience both.
The Forksville, Pa., driver returned to the IMCA Modified ranks this season after an eight-year racing hiatus. A regular weekly at The Hill Speedway and in the NY-Penn Series, Benjamin didn't need much convincing when crewman Robert Petrowski suggested they make the trip west to be part of America's Racin' Vacation.
"He's been going to Boone for years and talked me into going out," Benjamin said. "Racing at Super Nationals had been a dream when I ran IMCA in 2012 and 2013. I bought another car (a 2011 BMS) last year, put it together and started racing at The Hill. I've always wanted to go to Super Nationals but never made it. This year we're going to go run."
A heavy equipment operator and mechanic by trade, Benjamin raced in a local rear wheel drive 4-cylinder class for a single season before his previous IMCA Modified stint.
He then took off time to raise a family and build a new house, crewing for other drivers before building new Modifieds for himself and brother Matthew – his father Skip's new ride will be ready for 2022 – before getting back on the track.
"It can be challenging to set up but I've always liked the IMCA Modified," said Benjamin. "I like the way the car feels and the way it drives."
He'll start the 1,000 mile trip to Boone on Sept. 3 and race in the Prelude the next night. The tow home will start late Saturday or early Sunday so Benjamin can be back at work first thing Monday morning.
"Good sponsors help everything go," said Benjamin, noting the financial help from K2 BBQ Sauces, Evan's Excavating, Bagley's Pig Farm, Hills Grove Hotel and Belcher Trucking that will help turn his Super Nationals dream into reality.
"We have heard so many good things about Boone. Everybody tells us Super Nationals is like a family," he said. "Hopefully we can get lucky and transfer to an 'A' main. Making the show would mean a lot. I realize I don't have a lot of races under my belt but it would be awesome to make the main event on Saturday night."