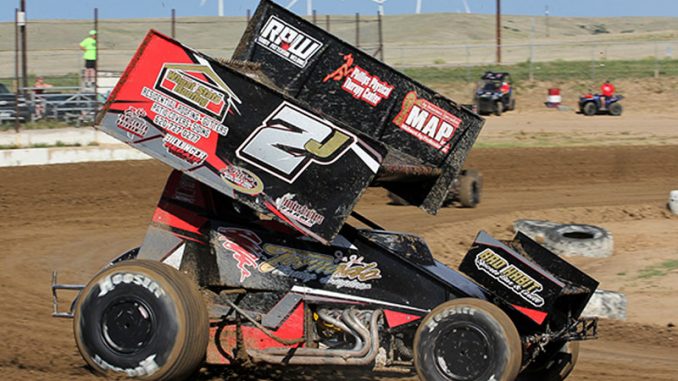 CALHAN, Colo. (June 23) – Zach Blurton won his first feature of the year with the United Rebel Sprint Series as he bested a 19-car field at El Paso County Raceway.
Nick Haygood and Brian Herbert brought the IMCA RaceSaver Sprint Car field to the green with Herbert getting the jump on the initial start only to have it negated by a couple cars tangling in turn on. On the ensuing restart, Haygood jumped into the lead and held Herbert at bay for the first three laps before Herbert made his move to take over the number one spot.
Herbert's lead only lasted two laps before Haygood regained the front spot, only to get high a lap later, allowing Herbert back by and falling to sixth.
In the meantime, the ninth starting Blurton was moving his way up through the field and was third by lap seven and took over second on lap nine.
By lap 11, Blurton made his move to wrestle the lead from Herbert with Williams taking over third from Pearce one lap later. From there, Blurton cruised to the checkers leading Herbert by over two seconds at the end and also taking the Keizer Aluminum Wheels hard charger award.
Ty Williams, Coby Pearce and Haygood rounded out the top five.
Feature results – 1. Zach Blurton; 2. Brian Herbert; 3. Ty Williams; 4. Coby Pearce; 5. Nick Haygood; 6. Buddy Tubbs; 7. Shane Sundquist; 8. Ryan Ellinger; 9. Kevin Schramek; 10. Skyler Hughes; 11. Chad Salem; 12. Todd Plemons; 13. Nick Nichols; 14. Lonnie Cox; 15. Brian Hard­man; 16. Kyle Johnson; 17. Travis Almen; 18. Aaron Ploussard; 19. Brad Wasson.