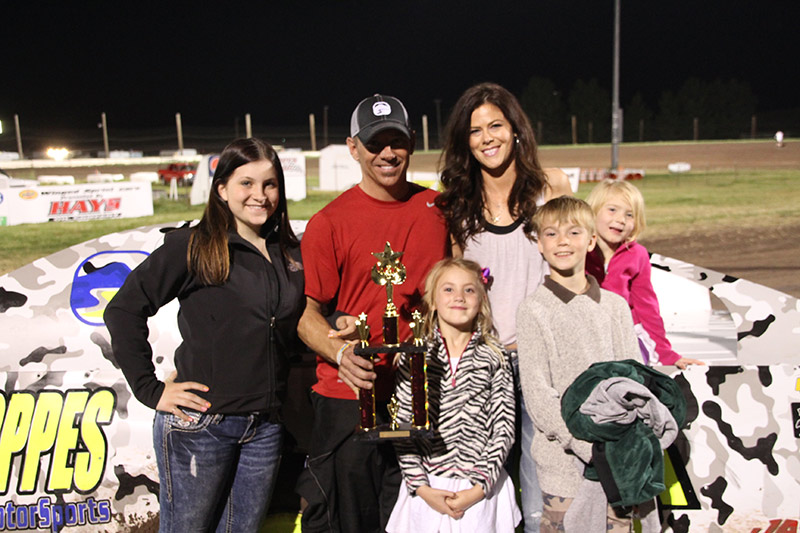 By Don Martin
WHITE CITY, Ore. (May 7) – Driving a great race from his pole position start, multi-time track cham­pion Mark Wauge won the 25-lap Xtreme Motor Sports IMCA Modified main event Saturday night at Southern Oregon Speedway.
Wauge hinted at possibly racing for another championship and his win was not easy with Matt Duste shadowing his every move up front. The season-opening feature ran non-stop.
Wauge and Jesse Bailey shared the front row and ran 1-2 before Duste made an inside pass to grab second. Nick Trenchard took over third and Wauge was in lapped traffic by the 12th circuit.
The leader never really shook Duste off of his tail in the caution-free event but drove a great race for the victory. Jesse Bailey collected a third place finish ahead of Albert Gill and Trenchard.
Jorddon Braaten kicked off his title defense in style by winning the Karl Chevrolet Northern SportMod feature. Braaten had a mid-race challenge from Dwayne Melvin before collecting the victory.
Braaten raced past front row starters Melvin and Garrett Hamilton to lead the opening lap.  Randy Fer­nandes exited after the first caution. Working lap nine, Melvin got a run down the back stretch and passed Braaten for the lead, only to have the pass negated by a yellow flag.
Braaten continued to lead Melvin and Nelson on the restart, and the lead trio ran in that order the rest of the way.