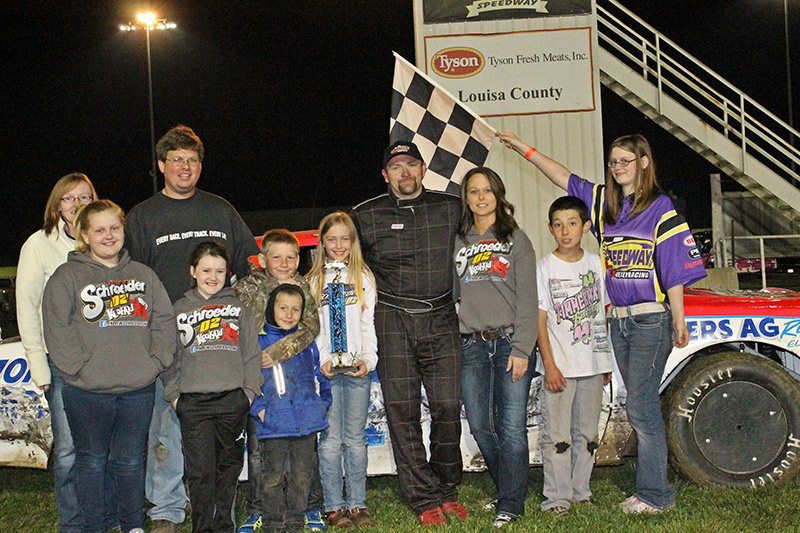 COLUMBUS JUNCTION, Iowa (April 22) ­– The 2016 racing season at CJ Speedway kicked off Friday with the action sponsored by the Louisa County Fair Association. Feature winners included Mike Hughes in the Kauffman Electric IMCA Stock Cars and Steven Struck in the Louisa Communications IMCA Sport Compacts.
Adam Bell and Tad Payne led the field to green in the 20-lap Stock Car feature, with Bell jumping out front on lap one over Payne and Blaine Dopler. Bell held the top spot until lap four when Payne slipped by for the lead.
The 11th starting Hughes took the top spot away from Payne on lap six and then pulled away to the win. Rod Staats was second, Dopler was third, Payne was fourth with Kirk Kinsley rounding out the top 5.
Shane Wright and Bill Whalen Jr. paced the Sport Compact field to green. Whalen took advantage of his front row start to grab the lead over Brendon Schultheis and Jake Benischek.
Mechanical troubles on lap 10 forced Whale to pull in and handed the lead over to Struck, who started 11th. Struck then led the final four laps to pick up the win. Levi Heath came from fifth to finish second, Darin Smith finished third after starting 12th, Schultheis was fourth with Wayne Noble fifth.