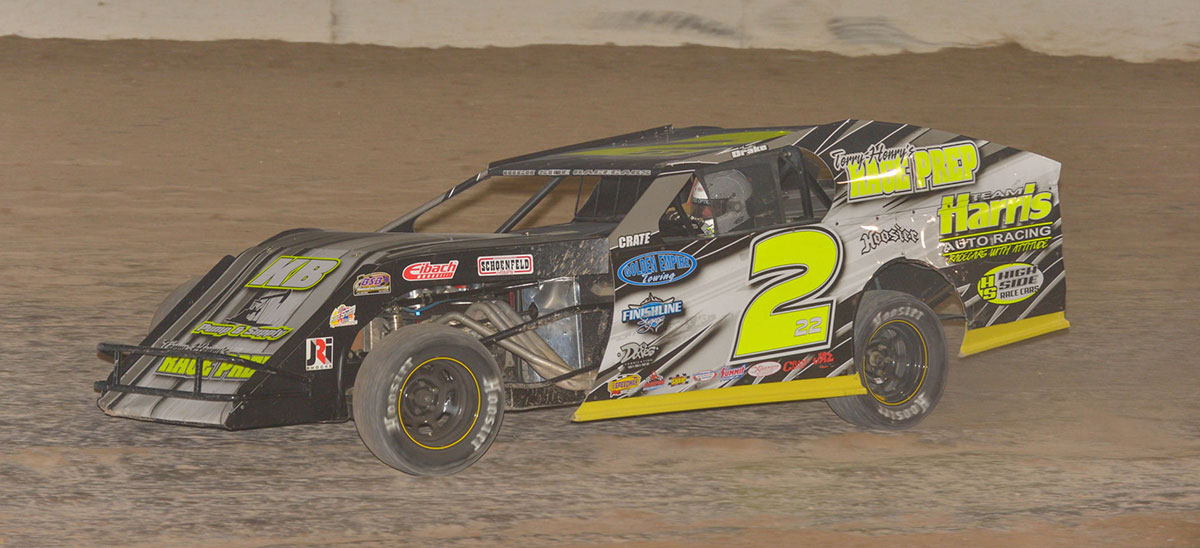 LAS VEGAS, Nev. (Nov. 12) ­– Jesse Sobbing and Scott Drake hit the jackpot with Xtreme Motor Sports IMCA Modified qualifying feature wins Thursday at the Duel In The Desert.
Sobbing checked out and won the first, caution-free qualifier at the Las Vegas Motor Speedway Dirt Track ahead of Terry Phillips, Kyle Strickler and Lance Mari.
Drake didn't have it as easy in the nightcap, as he crossed the line with Rodney Sanders and Bobby Hogge IV right behind. Ken Schrader held off Hunter Marriott for the fourth transfer into Saturday's big $7,777 to win show.
Both Thursday qualifiers for the Modifieds paid $777 to win.
Sobbing, the Karl Chevrolet Northern SportMod Duel winner in 2011, opened a quick 10 car length lead over second-running Mari. Mari, three-time and defending Duel winner Phillips and Strickler were battling for the runner-up spot by lap five.
Sobbing was in another time zone and negotiating lapped traffic by lap 10. Phillips took over second on lap 15 but had nothing for Sobbing, who stayed way out front. Strickler took third from Mari late in the 25-lapper.
Drake led the nightcap from the drop of the initial green. The front four broke away from the pack before a lap seven caution.
Drake stretched his lead out to nearly 10 car lengths following a lap nine restart. Drake, Sanders and Hogge gained some breathing room from the rest of the field while Hunter Marriott did his best to crack the top four.
Marriott fell back, then rallied to challenge again but was denied by Schrader.
Qualifying continues Friday at LVMS. The Saturday main event is a qualifying event for the 2016 Fast Shafts All-Star Invitational ballot.
Total car count for opening night was 271. Seventeen states and Canada were represented in the two Modified qualifiers on Thursday.
1st qualifier ­– 1. Jesse Sobbing, Malvern, Iowa; 2. Terry Phillips, Springfield, Mo.; 3. Kyle Strickler, Mooresville, N.C.; 4. Lance Mari, El Centro, Calif.; 5. Jeremy Payne, Nixa, Mo.; 6. Ricky Alvarado, Delta, Colo.; 7. Jason Wolla, Ray, N.D.; 8. Jason Noll, Peoria, Ariz.; 9. Dominic Ursetta, Arvada, Colo.; 10. Jordan Grabouski, Beatrice, Neb.; 11. Mike Mullen, Suamico, Wis.; 12. Roger Holder, Bakersfield, Calif.; 13. Kyle Heckman, Bakersfield, Calif.; 14. Peyton Taylor, Batesville, Ark.; 15. Joey Galloway, Manor, Sask.; 16. Lucas Schott, Chatfield, Minn.; 17. Cody Laney, Torrance, Calif.; 18. Shane Hiatt, Rising City, Neb.; 19. Paul Stone, Winton, Calif.; 20. Eddie Kirchoff, Gillette, Wyo.; 21. Chris Abelson, Sioux City, Iowa; 22. Rob VanMil, Barnesville, Minn.; 23. Rob Sanders, Bakersfield, Calif.; 24. Clay Daly, Watsonville, Calif.; 25. Bryan Burnes, Lemoore, Calif.; 26. Bricen James, Albany, Ore.; 27. Travis Hagen, Williston, N.D.; 28. Alex Stanford, Chowchilla, Calif.; 29. Dylan Smith, Osceola, Neb.; 30. Johnny Saathoff, Beatrice, Neb.
2nd qualifier ­– 1. Scott Drake, Joplin, Mo.; 2. Rodney Sanders, Happy, Texas; 3. Bobby Hogge IV, Salinas, Calif.; 4. Ken Schrader, Concord, N.C.; 5. Hunter Marriott, Brookfield, Mo.; 6. Brad Pounds, Bakersfield, Calif.; 7. Jeff Taylor, Cave City, Ark.; 8. Ethan Dotson, Bakersfield, Calif.; 9. R.C. Whitwell, Bakersfield, Calif.; 10. Collen Winebarger, Corbett, Ore.; 11. Ryan Ruter, Kanawha, Iowa; 12. John Hansen, Brush, Colo.; 13. Nick Roberts, Des Moines, Iowa; 14. Zane DeVilbiss, Farmington, N.M.; 15. Wade Taylor, Spring Creek; 16. Tommy Fain, Abilene, Texas; 17. William McGuire, Belton, Texas; 18. Spencer Wilson, Minot, N.D.; 19. Bret Bennett, Bakersfield, Calif.; 20. Billy Vogel, Fargo, N.D.; 21. Chad Andersen, Fort Calhoun, Neb.; 22. Justin Kay, Wheatland, Iowa; 23. Cory Sample, Winnemucca; 24. Steve Boles, Bakersfield, Calif.; 25. Benji LaCrosse, Green Bay, Wis.; 26. Dylan Sherfick, WaKeeney, Kan.; 27. Justin O'Brien, West Union, Iowa; 28. Kenny Wallace, Concord, N.C.; 29. Mike Hagen, Williston, N.D.; 30. Robert Hellebust, Minot, N.D.