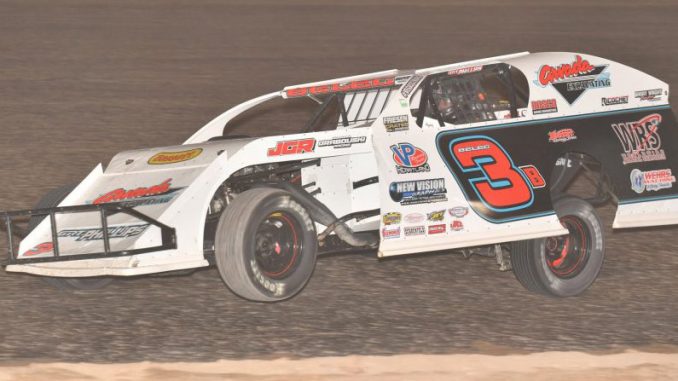 LAS VEGAS, Nev. (Nov. 9) – Eddie Belec and Terry Phillips were IMCA Modified qualifying fea­ture winners on Thursday, opening night of the 20th annual Duel In The Desert at Las Vegas Mo­tor Speedway.
Belec outran a charging Cody Laney to top the first qualifier on the LVMS half-mile Dirt Track while Phillips, a three-time Duel winner, pulled away from Ricky Thornton Jr. over the final circuits in the nightcap.
Both qualifiers paid $777 to win and sent the top four to Saturday's $7,777 to win main event. Jus­tin O'Brien and Rob Sanders also advanced from the first qualifier, Ricky Alvarado and Jason Noll from the second.
Belec mastered lapped traffic and Laney found the speed he needed late in the first 25-lapper.
While Belec kept an iron fist on the front spot, Laney got under Sanders and then O'Brien to take over second with five circuits to go.
Belec took the checkers four car lengths ahead of Laney.
Alvarado led through the first 10 circuits of the nightcap before Phillips motored by and began to check out following a caution just before midway.
Thornton was up to second before the final yellow waved with five laps left. Grey Ferrando and former race winner Johnny Saathoff were just outside transfer spots when the two made contact, taking both out of contention.
Phillips pulled away again, winning by a margin of three-and-a-half seconds.
Twenty-one states and two Canadian provinces are represented by Modified entries at the Duel; drivers from 14 states were on grids for the Thursday qualifiers.
Chris McKellar led from lap four to the checkers in the $500 to win 20-lap Karl Chevrolet Northern SportMod qualifier.
Matthew Andrews chased McKellar into lapped traffic on lap 13 but couldn't reel in the leader and finished second. The rest of the top six advancing to the Saturday show were Michael Johnson, Mike Tanner, Chase Rudolf and Ethan Braaksma.
Braaksma denied Chris Toth and then 18th starting Nick Spainhoward for the final transfer posi­tion.
The Duel In The Desert is broadcast by IMCATV; qualifying continues in a Friday race program that begins at 4 p.m. Pacific Time. Saturday's Modified main event is a qualifier for the 2018 Fast Shafts All-Star Invitational ballot.
Modified Results
1st qualifying feature – 1. Eddie Belec, Arvada, Colo.; 2. Cody Laney, Torrance, Calif.; 3. Justin O'Brien, West Union, Iowa; 4. Rob Sanders, Bakersfield, Calif.; 5. John Hansen, Brush, Colo.; 6. Bobby Hogge IV, Salinas, Calif.; 7. R.C. Whitwell, Tucson, Ariz.; 8. Chris Abelson, Sioux City, Iowa; 9. Jeff Taylor, Cave City, Ark.; 10. Ethan Dotson, Bakersfield, Calif.; 11. Logan Drake, San Luis Obispo, Calif.; 12. Jordan Grabouski, Beatrice, Neb.; 13. Casey Delp, Rock Springs, Wyo.; 14. Bill Egleston, Atwater, Calif.; 15. Dylan Sherfick, WaKeeney, Kan.; 16. Jared Hoefelman, Colum­bus, Neb.; 17. Joe Duvall, Claremore, Okla.; 18. Jeremy Payne, Buckeye, Ariz.; 19. Chett Reeves, Bakersfield, Calif.; 20. Travis Peery, Williston, N.D.; 21. Doug Davenport, Vernonia, Ore.; 22. Mike Villanueva, Atwater, Calif.; 23. Jeremy Thornton, Casa Grande, Ariz.; 24. Dominic Ursetta, Arvada, Colo.
2nd qualifying feature – 1. Terry Phillips, Springfield, Mo.; 2. Ricky Thornton Jr., Chandler, Ariz.; 3. Ricky Alvarado, Delta, Colo.; 4. Jason Noll, Peoria, Ariz.; 5. Scott Drake, Diamond, Mo.; 6. Benji LaCrosse, Green Bay, Wis.; 7. Jason Wolla, Ray, N.D.; 8. Bob Moore, Sioux City, Iowa; 9. Collen Winebarger, Corbett, Ore.; 10. Brian Schultz, Casa Grande, Ariz.; 11. Josh Most, Red Oak, Iowa; 12. Nick DeCarlo, Martinez, Calif.; 13. Johnny Saathoff, Beatrice, Neb.; 14. Tim Ward, Chandler, Ariz.; 15. Bill Brack, Mead, Colo.; 16. Jason Hilliard, Cache, Okla.; 17. Grey Ferrando, Stayton, Ore.; 18. Troy Foulger, Martinez, Calif.; 19. Tanner Black, Great Bend, Kan.; 20. Johnny Scott, Cameron, Mo.; 21. Alex Stanford, Chowchilla, Calif.; 22. Lucas Schott, Chatfield, Minn.; 23. Chase Allen, Midlothian, Texas; 24. Roger Holder, Bakersfield, Calif.
Northern SportMods
Qualifying feature – 1. Chris McKellar, Bakersfield, Calif.; 2. Matthew Andrews, Malcolm, Neb.; 3. Michael Johnson, Bakersfield, Calif.; 4. Mike Tanner, Smithville, Mo.; 5. Chase Rudolf, Nor­walk, Iowa; 6. Ethan Braaksma, Newton, Iowa; 7. Nick Spainhoward, Bakersfield, Calif.; 8. Chris Toth, Phoenix, Ariz.; 9. Shane DeVolder, Pacifica, Calif.; 10. Luke Krogh, Williston, N.D.; 11. Ja­son Nation, Las Vegas; 12. Robert Elliott, Clinton, Okla.; 13. Shawn Harker, David City, Neb.; 14. Lee Jensen, Bakersfield, Calif.; 15. Austin Kiefer, Pahrump; 16. Arie Schouten, Blair, Neb.; 17. Doff Cooksey, Brentwood, Calif.; 18. Andrew Peckham, Grass Valley, Calif.; 19. Fred Ryland, Brentwood, Calif.; 20. Mike Dean, Santa Maria, Calif.; 21. Jason George, LaVeine, Ariz.; 22. Jake Sachau, Denison, Iowa; 23. Chase Alves, Chandler, Ariz.; 24. Brylon Holder, Bakersfield, Calif.