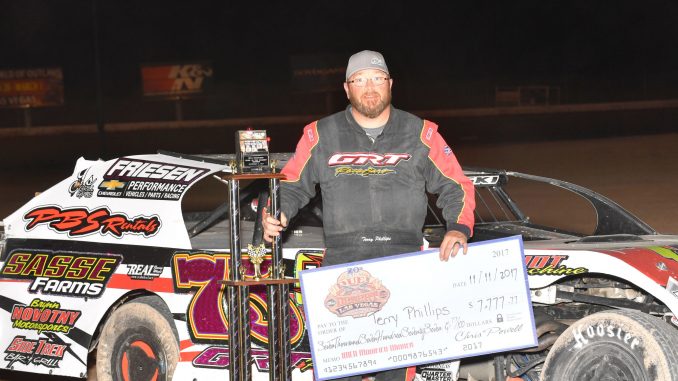 LAS VEGAS, Nev. (Nov. 11) – Nothing slowed Terry Phillips on his way to a career fourth IMCA Modified Duel In The Desert victory and a $7,777 paycheck Saturday at the Las Vegas Motor Speedway Dirt Track.
Phillips led all but the first of 40 laps, nearly hitting the wall getting around traffic before pulling ahead to win nearly eight seconds ahead of Eddie Belec.
The race stayed green the last 36 laps. Peyton Taylor, Johnny Scott and Cody Laney rounded out the top five finishers at the 20th annual event, the biggest of the season in IMCA's Larry Shaw Racing Western Region.
"These slick tracks, I like them. I guess I'm getting a little long in the tooth, but I've got a lot more left in me, probably more than most of these young kids," said Phillips, from Springfield, Mo., and also the Duel winner in 2010, 2011 and 2014. "There were a couple lanes and I was all over this thing. It was awesome."
Arvada, Colo., speedsters Belec and Dominic Ursetta made up the front row but the third starting Phillips was ahead of both by the time the second lap was scored. Belec stayed close following the early restart but lost ground when Phillips moved from the high line to the middle groove.
Taylor caught Ursetta for third while Phillips gradually moved down on the track and into the same line as Belec by lap 13.
Lapped cars came into play beginning at halfway. Phillips moved back to a higher groove looking for the fastest way through and came close to catching the turn four wall on lap 29.
He cleared traffic and left the battle for second well behind by lap 35. The main event was completed in just 20 minutes, with Belec .19 of a second ahead of Taylor at the finish.
"Somebody hit me at the end coming off the corner and I didn't know if it was second place. I thought, 'I better get going here!'" Phillips said, adding plugs for teammate Jordan Grabouski and his crew as well as Toby Kruse for the track prep. "With the lapped cars, sometimes you've got to try different lines to see if you're faster or not. It's kind of like playing chess: You've got to make the right moves."
Phillips was already a candidate for the 2018 Fast Shafts All-Star Invitational ballot. Jeremy Payne, 24th in this year's event, leads all Modified drivers with five career Duel In The Desert crowns.
Chris McKellar and Nick Spainhoward both made the trip to the Dirt Track from Bakersfield, Calif., and were separated by less than a second at the finish of the $1,777 to win Karl Chevrolet Northern SportMod main.
McKellar started from the pole and led all 25 laps, beating Spainhoward, Robert Elliott, 23rd starting Johnathon Logue and Michael Johnson, who'd exited to fix a flat tire following an opening-lap skirmish and restarted at the back.
Spainhoward had made his first unsuccessful bid to pass following the first restart. McKellar was never able to pull away as cautions kept the field close through midway. Logue was already running fifth when the 15th circuit was scored.
One second was the difference between first and second with five laps left. Spainhoward was unable to reel in McKellar and had to settle for a close second.
"It's just unbelievable and I can't even put this into words. It got a little hairy on that last lap. I got a little loose down the front straightaway and banged the wall," McKellar said. "This old 2010 car came out here on an open trailer and to come out here and run with these guys is amazing. I'm stoked. It's the biggest win of my career, for sure."
Bricen James passed D.J. Shannon coming to the white flag and pulled away on the 10th and final circuit to top the Young Guns race for Modified drivers 19 and under. Shannon and Ethan Braaksma completed the top three.
Bill Brack led all 10 laps of the Legends feature, repeating his winning way in the Modified race for drivers ages 55 and over. Brack was a couple car lengths ahead of sixth-starting Christy Barnett at the checkers.
Feature Results
Modifieds – 1. Terry Phillips, Springfield, Mo.; 2. Eddie Belec, Arvada, Colo.; 3. Peyton Taylor, Batesville, Ark.; 4. Johnny Scott, Cameron, Mo.; 5. Cody Laney, Torrance, Calif.; 6. Ricky Thornton Jr., Chandler, Ariz.; 7. Dominic Ursetta, Arvada, Colo.; 8. Justin O'Brien, West Union, Iowa; 9. Rob Sanders, Bakersfield, Calif.; 10. Ricky Alvarado, Delta, Colo.; 11. Jason Noll, Peoria, Ariz.; 12. Jared Hoefelman, Humphrey, Neb.; 13. Collen Winebarger, Corbett, Ore.; 14. Tim Ward, Chandler, Ariz.; 15. Jason Wolla, Ray, N.D.; 16. Jordan Grabouski, Beatrice, Neb.; 17. Rodney Sanders, Worthington, Minn.; 18. Nick DeCarlo, Martinez, Calif.; 19. John Hansen, Brush, Colo.; 20. Bob Moore, Sioux City, Iowa; 21. Josh Most, Red Oak, Iowa; 22. Scott Drake, Diamond, Mo.; 23. Lucas Schott, Chatfield, Minn.; 24. Jeremy Payne, Buckeye, Ariz.; 25. Casey Skyberg, Rapid City, S.D.; 26. Johnny Saathoff, Beatrice, Neb.; 27. Benji LaCrosse, Green Bay, Wis.; 28. R.C. Whitwell, Tucson, Ariz.
Young Guns – 1. Bricen James, Albany, Ore.; 2. D.J. Shannon, Merced, Calif.; 3. Ethan Braaksma, Newton, Iowa; 4. Austin Kuehl, Cave Creek, Ariz.; 5. Dylan Thornton, Santa Maria, Calif.; 6. Brylon Holder, Bakersfield, Calif.; 7. Bubba Stafford Jr., Desert Hills, Ariz.; 8. Braxton Yeager, Green River, Wyo.; 9. Sean Stacy, Kearny, Ariz.; 10. Shane DeVolder, Pacifica, Calif.; 11. Camron Spangler, Dove Creek, Colo.; 13. Troy Morris III, Bakersfield, Calif.; 14. Vinny Raucci, Las Vegas; 15. Matt Belcher, Pahrump; 16. Matthew Mayo, Bakersfield, Calif.; 17. Kendra Vollmer, Idaho Falls, Idaho.
Legends – 1.  Bill Brack, Mead, Colo.; 2. Christy Barnett. El Paso, Texas; 3. Lawrence O'Connor, Port Hardy, B.C.; 4. Roy Spielman, Mills, Wyo.; 5. Jerry Bailey, Pocatello, Idaho; 6. Jerry Frydrych, Austin, Texas; 7. Steve Streeter, Madera, Calif.
Northern SportMods – 1. Chris McKellar, Bakersfield, Calif.; 2. Nick Spainhoward, Bakersfield, Calif.; 3. Robert Elliott, Clinton, Okla.; 4. Johnathon Logue, Boone, Iowa; 5. Michael Johnson, Bakersfield, Calif.; 6. Jason Nation, Bakersfield, Calif.; 7. Shawn Harker, Nebraska City, Neb.; 8. Ethan Braaksma, Newton, Iowa; 9. Fred Ryland, Brentwood, Calif.; 10. Shane DeVolder, Pacifica, Calif.; 11. Arie Schouten, Blair, Neb.; 12. Jason George, Laveen, Ariz.; 13. Luke Krogh, Dickinson, N.D.; 14. Cory Hemphill, Yuma, Ariz.; 15. Gary Dutton, Bakersfield, Calif.; 16. Kyle Wood, Bakersfield, Calif.; 17. Danny Concelman, Colorado Springs, Colo.; 18. Chase Alves, Chandler, Ariz.; 19. Matthew Andrews, Malcolm, Neb.; 20. Jake Sachau, Denison, Iowa; 21. Lee Jensen, Bakersfield, Calif.; 22. Austin Kiefer, Pahrump; 23. Mike Tanner, Smithville, Mo.; 24. Chase Rudolf, Prole, Iowa.