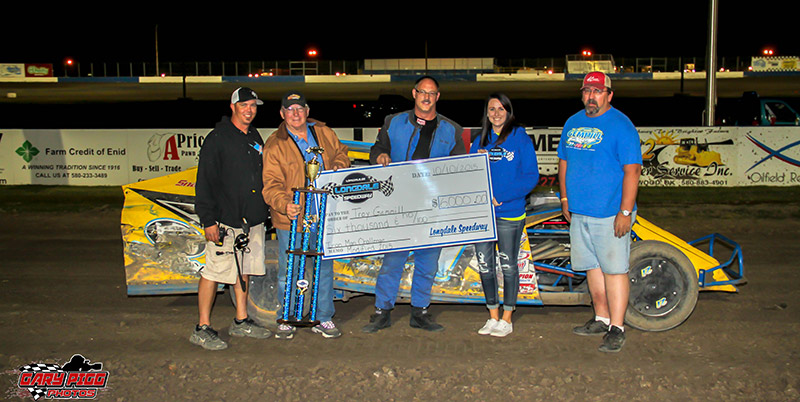 LONGDALE, Okla. (Oct. 10) – Troy Gemmill and Robert Elliott both proved their mettle in winning IMCA main events at Longdale Speedway's Iron Man Challenge.
Gemmill scored Saturday's $6,000 Xtreme Motor Sports IMCA Modified checkers, along with a berth on the ballot for the 2016 Fast Shafts All-Star Invitational. Elliott took home the $3,000 top prize for IMCA SportMods.
The mandatory pit stop halfway through the 60-lap main event came at the best possible time for Gemmill, who had led the first 28 circuits from the pole before getting together with a lapped car and spinning into the infield.
Still rolling, he fired the engine back up and got back on the track having lost just two positions.
More importantly, the stop at midway gave him the opportunity to change a tire that was slowly going flat as a result of the incident two laps earlier.
"I was amazed that I was in third," admitted Gemmill. "We changed the tire, I drank a lot of water and conferred with my son Brendon (who would go on to finish fourth after starting 10th) about track conditions."
In and out of second following the ensuing restart, Gemmill passed Derek Ramirez and then Scott Drake for the lead with 10 laps to go. Ramirez was disqualified in post-race tech so it was Drake, Jeff Taylor, Brendon Gemmill and Johnny Bone Jr. making up the final top five.
"This was one of my better-paying sanctioned wins and I was driving my dad's (Van) car. I had driven it once before this year," the new Fast Shafts All-Star Invitational ballot candidate said. "The car seems to fit me pretty well. Maybe with a little bit of luck I might run it at Muskogee (OctoberFest at Outlaw motor Speedway) in a couple weeks."
Elliott, also no stranger to victory lane at high-paying specials, started the SportMod feature from outside row three.
He passed Travis Johnson and then Ross McCartney for the lead on lap 22, then held off all challengers following a couple cautions that interrupted the last 13 circuits.
"We struggled a little bit at the start of the season but things started to come around for us," said Elliott, the winner by more than two car lengths ahead of McCartney. "I don't know of another track where the SportMod competition is so good."
Rounding out the top five were Johnson, Kenny Morris and Daylon Bergeron.
Feature Results
Modifieds – 1. Troy Gemmill; 2. Scott Drake; 3. Jeff Taylor; 4. Brendon Gemmill; 5. Johnny Bone Jr.; 6. Shawn Walsh; 7. Brint Hartwick; 8. Kent Bright; 9. Jason Payton; 10. Alan Sharpensteen; 11. Grant Florence; 12. Rick Pittman; 13. Scott Edwards; 14. Cole Traugott; 15. Brandon Walsh; 16. Chris Elliott; 17. Nate Moore; 18. Scotty Bough; 19. Cody Gearhart; 20. Bobby McGehee Jr.; 21. John Bailey; 22. Michael Shenberger; 23. Jason Hillard; 24. Derek Ramirez.
SportMods – 1. Robert Elliott; 2. Ross McCartney; 3. Travis Johnson; 4. Kenny Morris; 5. Daylon Bergeron; 6. Kaleb Roach; 7. Jessie Hoskins; 8. Kevin Tabor; 9. Jeffrey Kaup; 10. Bailee Clift; 11. Randy Shinberger; 12. Hunter McDonald; 13. Craig Ridgway; 14. Tyler West; 15. Garrett Roach; 16. Cole Traugott; 17. Mike Roach; 18. Greg Burt; 19. Slade Roach; 20. Brandon Kenny.