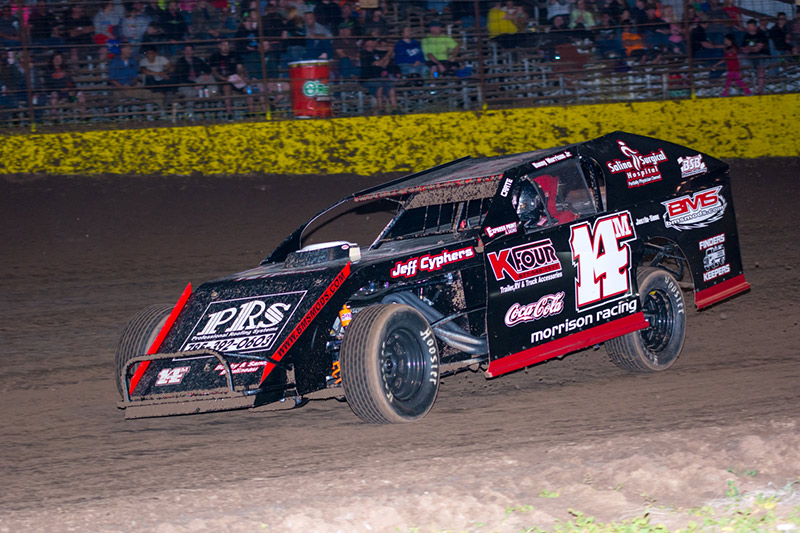 By Dusty Wiegert
SALINA, Kan. (May 1) — Mother Nature finally shined on Salina Speedway on Friday as the Browynn Birdsong Childhood Cancer Awareness Night kicked off the 2015 season.
The finish of the night occurred in the 1st Class Chassis IMCA Modified main event. Twenty-three of the best in the area checked in for the feature with Corey Lagroon showing the way for a major­ity of the race after starting third.
Lagroon was challenged by numerous drivers before seventh starting Danny Morrison closed the gap. As the field took the white flag Morrison dived low in corners one and two and it stuck to over­power Lagroon out of two and to the finish line. Lagroon finished runner-up and Van Gem­mill followed in third.
Scott Miller has picked up plenty of wins in the past couple of seasons and continued his streak, this time aboard an IMCA-sanctioned Coors Light Stock Car. He picked up the win but was hounded by Arnold Williams for much of the race. Williams finished second with Jerry Phillips mak­ing his return to finish third.
Daniel Gottschalk solidified his stand for the 2015 championship with an early points lead after capturing the Xtreme Motor Sports IMCA Northern SportMod feature. Gottschalk started eighth on the grid and was able to work past veteran driver Rodger Peck in his return to the track to pick up the hardware. Peck finished second and Kurtis Pihl was third.
Tommy Fose obliterated the field in the Budweiser IMCA Hobby Stocks. Fose made short work of Aaron McBride to take the lead and powered away to a decisive victory. Travis Coop came from tenth to finish second with Duane Wahrman third.
For his first time at the track M&H Motors IMCA Sport Compact feature winner Randy Murphy made it look easy, besting a second finishing Art Herzog for the trophy. Art Bird came home third.
Heat races each paid $50 to win courtesy of Don Damon and Xtreme Motor Sports.