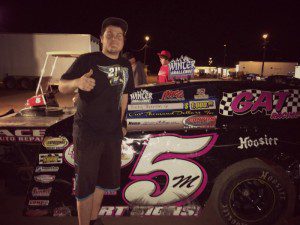 PEORIA, Ariz. (Jan. 30) – The folks at Bank of America in his hometown of Chandler have seen a lot of Ricky Thornton Jr. lately.
Thornton deposited the $1,000 proceeds from his third straight Winter Challenge Series victory after a back-and-forth IMCA Xtreme Motor Sports Modified battle with Tim Ward Thursday night at Canyon Speedway Park.
"I've been fortunate once to win nine in a row but never against the caliber of drivers I'm racing against now," said Thornton, who kept the same setup that helped him to Jan. 25 and 26 victories.
From the sixth starting spot, Thornton made a move to the bottom groove in the second set of turns and was up to third by the time the first of 25 circuits was scored.
He caught Jason Noll for second a couple laps later and set his sights on Ward. Two cautions interrupted their run at the front, the second of which negated Ward's pass for the lead.
Thornton went higher on the oval after that close call and while Ward threatened he was never able to catch Thornton again.
Noll, Jesse Sobbing and Chris Olexiewicz completed the top five. Ward's runner-up finish put him in the top spot of the series point standings.
Canyon's Winter Challenge Series resumes with $1,000 to win features for the Modifieds on Friday and Saturday, Jan. 31 and Feb. 1. The series then heads to Cocopah Speedway for Feb. 7, 8, 14 and 15 events.
Feature results – 1. Ricky Thornton Jr.; 2. Tim Ward; 3. Jason Noll; 4. Jesse Sobbing; 5. Chris Olexiewicz; 6. Larry Hood; 7. Mike Jergens; 8. Ryan Roath; 9. Mark Stewart; 10. Stacey Mills; 11. Riley Simmons; 12. Chad Andersen; 13. Chaz Baca Jr.; 14. Jeremy Mills; 15. Scott Eaton; 16. Nate Warren; 17. Jesse Williamson; 18. Jason Schoenberger; 19. Tommy Fain; 20. Cody Miller; 21. Brian Schultz; 22. Jason Briese; 23. Donald Robinson.