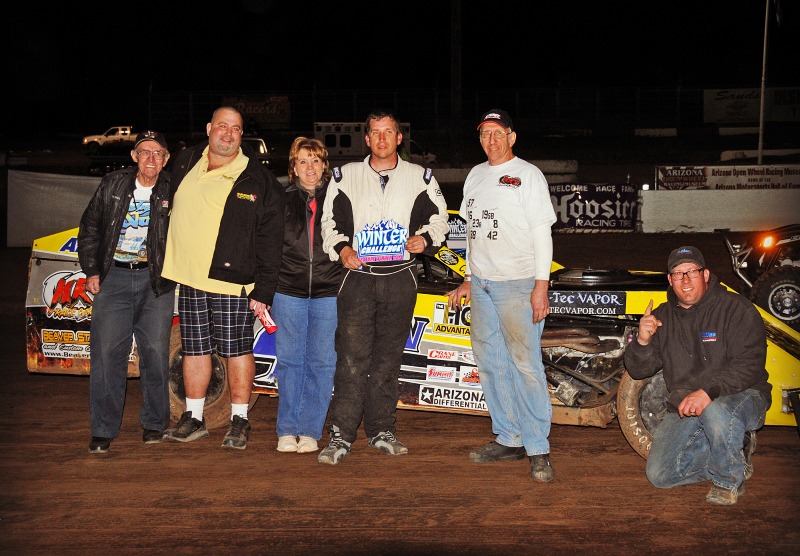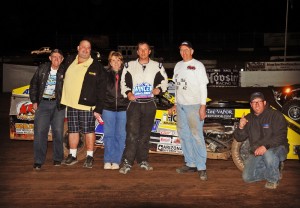 PEORIA, Ariz. (Jan. 24) – Jason Noll couldn't have asked for a better start to his 2014 race season.
Noll led all 25 laps from the pole in winning the IMCA Xtreme Motor Sports Modified main event on Friday, in the first of six Winter Challenge Series features at Canyon Speedway Park.
"Everything worked out really good," said Noll, the defending champion at Canyon. "I was able to get to the top side of the track and I ran there all the way."
The $1,000 win put Noll on the ballot for the 2014 Fast Shafts All-Star Invitational and came in an MRT Chassis built by runner-up Lance Mari, who finished three car lengths back.
Noll managed to get some distance on Mari and Jesse Williamson after midway. Stephen Pfeifer also ran with the frontrunners before ending in fourth. Tim Ward, a former Canton track and series champ, rounded out the top five.
Feature results – 1. Jason Noll; 2. Lance Mari; 3. Jesse Williamson; 4. Steven Pfeifer; 5. Tim Ward; 6. Mark Stewart; 7. Ryan Roath; 8. Jesse Sobbing; 9. Larry Hood; 10. Brian Schultz; 11. Ricky Thornton Jr.; 12. Troy Heupel; 13. Chris McCurdy Jr.; 14. Bill Egleston; 15. Chad Anderson; 16. Nate Warren; 17. Donald Robinson; 18. Mike Jergens; 19. Tommy Fain; 20. Rusty Corneliusen; 21. Dustin Anderson; 22. Jason Briese.