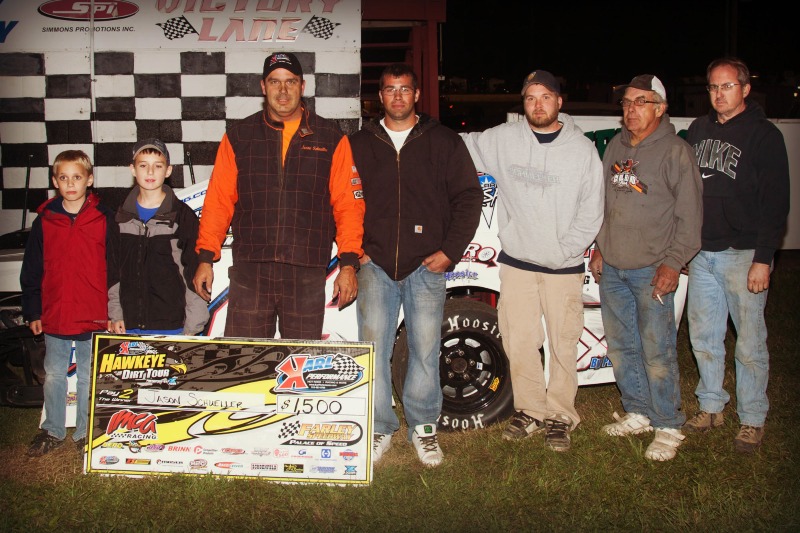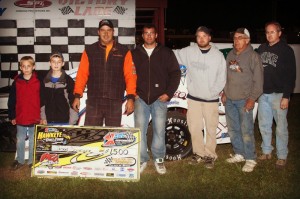 FARLEY, Iowa (Sept. 13) – Jason Schueller led most of the way and pulled ahead late in winning Friday's Karl Performance Hawkeye Dirt Tour presented by XSAN feature at Farley Speedway.
The $1,500 IMCA Xtreme Motor Sports Modified series victory came during the Yankee Dirt Track Classic and put Schueller on the ballot for the 2014 Fast Shafts All-Star Invitational.
Mark Elliott qualified from his "B" feature and advanced 15 spots to second while new series point leader Mike Van Genderen was third. Mark Schulte and Jerry Luloff rounded out the top five.
Schulte drew the outside front row start and led the first two circuits. The third starting Schueller was alongside and ahead by the width of his bumper when the next lap was scored, then began to pull away before a lap seven caution tightened the field back up.
Elliott was up to fourth by lap 10 and got by Schulte for second on lap 15. A series of yellow flags interrupted the race after midway before Van Genderen set his sights on second.
Elliott held off that challenge but neither driver was able to make any progress in reeling in Schueller before the end of the 30-lapper. Van Genderen, however, took over the top spot in the standings when Ronn Lauritzen was relegated to 21st place.
The championship of the fourth annual series will be decided in the tour finale Saturday evening, Sept. 14 at Farley. That event pays $2,000 to win.
Schueller's victory was his Hawkeye Dirt Tour first. Forty-four Modifieds were entered at Farley for the 10th series event of the season.
Feature results – 1. Jason Schueller, Dubuque; 2. Mark Elliott, Webster City; 3. Mike Van Gen­deren, Newton; 4. Mark Schulte, Delhi; 5. Jerry Luloff, Independence; 6. Richie Gustin, Gilman; 7. Kurt Kile, Nichols; 8. Matt Gansen, Zwingle; 9. Ron Barker, Dubuque; 10. Kelly Shryock, Fertile; 11. Dakota Hayden, Wilton; 12. Jason Wolla, Ray, N.D.; 13. Bob Moyer, Dubuque; 14. Cayden Carter, Oskaloosa; 15. Mitch Morris, Eldridge; 16. Zach Less, Hopkinton; 17. Steve Stewart, Burling­ton; 18. Scott Hogan, Vinton; 19. Jerry King, Waterloo; 20. Chris Horn, Cedar Rapids; 21. Ronn Lauritzen, Jesup; 22. Troy Cordes, Dunkerton; 23. Shawn Ryan, Waterloo; 24. Jason Roth, Hazel Green, Wis.
1st heat (top four) – 1. Schulte; 2. Moyer; 3. Van Genderen; 4. Roth; 5. Elliott; 6. Kile; 7. Tyler Madigan, Peosta; 8. Matt Werner, Colona, Ill.; 9. John Gartner Jr., Bismarck, N.D.; 10. Tyler Droste, Waterloo; 11. Tony Olson, Cedar Rapids.
2nd heat – 1. Morris; 2. Hayden; 3. Barker; 4. Stewart; 5. Less; 6. Kenny Kostenbader, Freeport, Ill.; 7. Dennis Betzer, Central City; 8. Justin Rix, Olin; 9. Jeremy Gengler, Lancaster, Wis.; 10. Keith Pittman, Waterloo; 11. Gustin.
3rd heat – 1. Schueller; 2. Gansen; 3. Luloff; 4. Cordes; 5. Shryock; 6. Mike Burbridge, Delhi; 7. Dugan Thye, Burlington; 8. Pete Bonin, Platteville, Wis.; 9. David McClain, Potosi, Wis.; 10. Steve Van­natta, Platteville, Wis.; 11. Shaun Slaughter, Iowa City.
4th heat – 1. Ryan; 2. Carter; 3. Lauritzen; 4. Horn; 5. Hogan; 6. King; 7. Jeff Waterman, Quincy, Ill.; 8. Wolla; 9. Wade Steinmann, Monroe, Wis.; 10. Mike Weidemann, Dubuque; 11. John Camp­bell, Dubuque;
1st "B" feature (top three) – 1. Elliott; 2. Shryock; 3. Kile; 4. Werner; 5. Gartner; 6. Thye; 7. Bo­nin; 8. Olson; 9. Madigan; 10. Vannatta; 11. Burbridge; 12. Droste; 13. Thompson; 14. Slaughter; 15. McClain.
2nd "B" feature – 1. Hogan; 2. Gustin; 3. Wolla; 4. King; 5. Gengeler; 6. Betzer; 7. Kostenbader; 8. Campbell; 9. Steinmann; 10. Less; 11. Pittman; 12. Waterman; 13. Weidemann; 14. Rix.
Provisionals – Less and King.