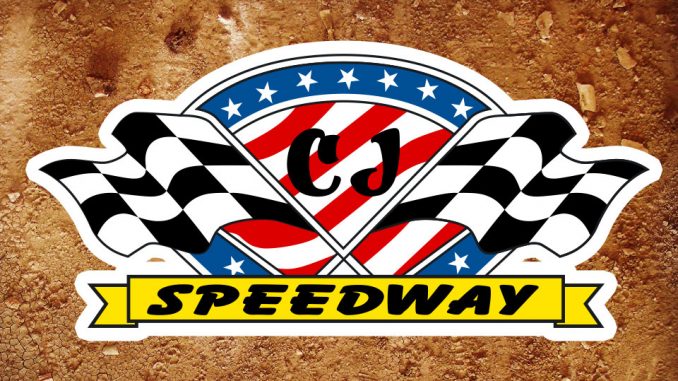 By Jerry Mackey
COLUMBUS JUNCTION, Iowa (Nov. 3, 2023) ­­– CJ Speedway provided great racing throughout the 2023 season and the primary reason that the racing was so good was because of the caliber of the competition each and every Friday night.
Columbus Junction regular Tucker Richardson won national and Northern Region Rookie of the Year in the IMCA Sunoco Hobby division.
Richardson recently turned 17 and is a junior at Winfield Mount Union High School. He raced a Hobby Stock after running two seasons in the mini hauler division (small trucks). Richardson comes from a racing family as he competes weekly with his uncle Shane Richardson and great uncles John and Chuck, who have both raced many laps at CJ Speedway. 
The Hobby Stock that Richardson raced was a proven car as the Dominator Chassis was raced to a national championship by Kaden Reynolds in 2021 and later raced by Ryan Havel to multiple wins before the Richardsons purchased the car and the young Richardson drove the car to a third place in points at the CJ Speedway with a feature win to his credit.
Richardson also won the East Moline Speedway track and Illinois State championships. Richardson ran a total of 38 nights and his record included four wins, 23 top five's and 32 top 10's. 
Richardson also made his first appearance at the IMCA Speedway Motors Super Nationals fueled by Casey's at Boone Speedway, finishing 15th in the Saturday night Dance.
Norman Bean II jumped right into the very tough IMCA Sunoco Stock Car division, finishing fourth in CJ Speedway track and national rookie standings.
Bean's only racing experience prior to 2023 included racing go karts as a youngster. Bean's father Norman and his uncle Danny raced for many years and the younger Bean feels he owes much of his success as a rookie to them.
The Bean family purchased a 2019 IMCA Stock Car from a racer in New Mexico and brought the car home and went through it prior to the start of the 2023 season. Bean adapted very quickly to the car and was fast from opening night at CJ Speedway.
He also traveled to Minnesota and Northern Iowa to take part in the Midwest Madness Tour. Bean feels the experience of racing new tracks and different competition helped him step up their racing program.
Bean finished second in EQ Cylinder Heads Northern Region rookie standings and fourth nationally. He plans to spend the winter months going through his car and is planning on getting wins and would like to challenge for the IMCA Stock Car title at home track CJ Speedway in 2024.
Levi Gaunt of Muscatine piloted his no. 44G Friesen Performance IMCA Northern SportMod to a great season, finishing fourth in national rookie standings.
Gaunt raced in 30 events, garnering 10 top five's and 26 top 10's in the very tough SportMod division. Gaunt used his consistent finishes to end second in season-long points at CJ. He plans to race CJ Speedway on Fridays in 2024 with a goal of feature wins and a strong finish in track points.
In addition Gaunt, plans to travel to several big races in 2024 with a possibility of making a trip to Wisconsin.
Jarrett Brown of Ainsworth drove the Bill Failyer-owned Friesen Performance IMCA Modified to his third consecutive track championship at CJ Speedway in 2023. Failyer has actually owned the season points winning championship car scoring titles five of the last six years. Failyer's first CJ track championship had come in 1992 with Matt Fulton driving in the pro stock class.
Brown had a fantastic 2023 season at the CJ Speedway with eight wins, six second's and two fifth's. The entire season saw the 88 of Brown race 34 nights with 12 wins, 18 top five's, one 7th and a 12th along with two DNF's comprising the season finishes.
The Failyer team raced at nine different tracks in 2023 and finished 13th in national point standings for the division. Failyer and Brown intend to defend their track title at the CJ Speedway racing on Friday nights in 2024 and also plan on hitting the road to as many big races as possible.