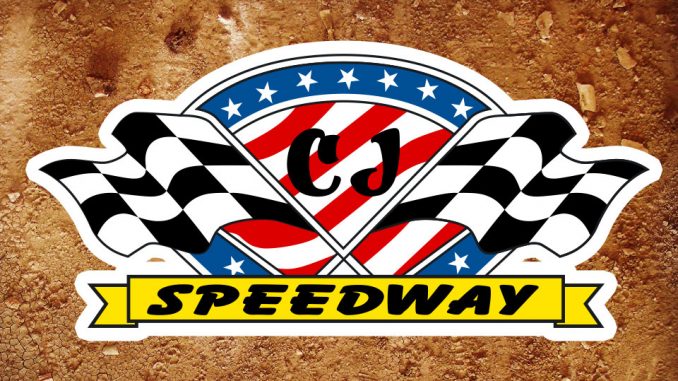 By Jerry Mackey 
COLUMBUS JUNCTION, Iowa (July 29) – A great crowd turned out on a beautiful night for racing at the 130th annual Louisa County Fair on Friday night. Larry Richardson gave the 88 race teams in attendance a great racing surface to race on, not only did the drivers use every inch of the CJ Speedway oval, they raced on the lower part of the levee on several occasions.
The Friesen Performance IMCA Modified feature ran caution-free. Row two starter Kurt Kile moved out front early as he raced away from Derek Walker. The race was on for second as Mitch Way and Jarrett Brown both worked to the front and waged a battle for second.
Kile scored the impressive $1,000, Fast Shafts All-Star Invitational qualifying eligible win as Way edged out Brown for second.
The IMCA Sunoco Stock Cars provide great racing every Friday and the Fair race was no different as the 20 drivers in attendance provided the fans with an outstanding feature race.
Scott Jordan led early as Jason Cook made his way to the front from a third row start. Cook was battling Jordan for the lead as seventh starting Dustin Griffiths joined the lead pack.
The lead pack swelled even more as Cayden Carter joined the frontrunners. The leaders were swapping positions as Griffiths worked off the berm at the top side of the track and Cook and Carter worked the middle and the low side. All three were scored lap leaders as the race wound down. 
Griffiths was able to get to the $800, B & B Racing Chassis All-Star Invitational qualifying eligible checkers first by a car length ahead of Carter who just nipped Cook for second.
Shane Paris started in row three of the Friesen Performance IMCA Northern SportMod feature and quickly made his way to the front. Paris has been on a roll lately as the 17C team picked up its second win in as many nights.
Paris took the lead from Shaun Slaughter and went on to score the win. Slaughter held on for second ahead of Colton Livezey, who advanced to the front from a fifth row start.
The IMCA Sunoco Hobby Stock feature win was a very popular one as Cody Staley parked the 55 in victory lane. Staley took the lead from early leader Luke Phillips and went on to score the win ahead of Randy LaMar while Phillips crossed under the checkers in third.
The Mach-1 IMCA Sport Compact feature saw Chandler Fullenkamp lead early before a caution tightened the field for a restart. Shane Barnes took advantage of the restart and took the lead and raced on to the win ahead of Garrett Porter.
On Friday, Aug. 5, CJ Speedway will hold track championship racing as champions will be crowned in all five racing divisions.