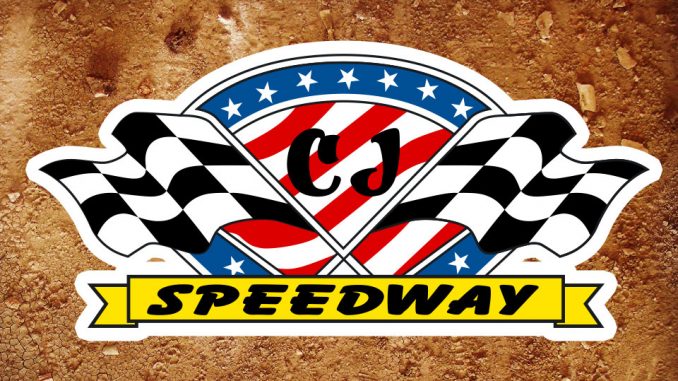 By Jerry Mackey 
COLUMBUS JUNCTION, Iowa (May 20, 2022) – Friday night racing was held at CJ Speedway with a large increase in car count and an action packed night of close racing on the slick and smooth 4/10-mile dirt track on the Louisa County Fairgrounds.
The Friesen Performance IMCA Modified feature saw Jarrett Brown make his way to victory lane for the second consecutive week. Brown steadily worked to the front from a fifth row start and made the winning pass on lap 12 of the 16-lap feature. Brown slipped by race leader Dakota Simmons by using multiple lines on the very racy track. Simmons took second at the checkers ahead of early leader Jonathan Huston.
Johnny Spaw has been so busy building race cars that his racing schedule has been very limited. Spaw made his first appearance of the 2022 season at CJ and when the checkers flew in the IMCA Sunoco Stock Car main event it was Spaw taking the win.
Spaw stated in victory lane, "I love racing CJ, they have the best fair board in racing and Larry does a fantastic job on the track."
Spaw started the main event in seventh and quickly got to the front taking the lead from early pacesetter Seth Dickey. Spaw went on to record the win ahead of David Brandies. Corey Strothman nipped Dustin Vis for third by a matter of inches.
The IMCA Sunoco Hobby Stocks saw plenty of action right up to and including the finish. Ryan Havel, who is chasing the national rookie of the year honors, scored the hard-fought win. Havel emerged from the lead pack late in the race to take the checkers ahead of Jon Irwin and Randy LaMar.
The last lap saw Billy Stanford slip off the top side of turn three and roll his car over. Stanford was uninjured in the incident.
The Mach-1 IMCA Sport Compact main event win went to Alex Hayes. Hayes got to the front ahead of strong runner Shane Barnes. The two ran out front the entire race with Hayes scoring a five car length victory over Barnes with Kolby Sabin taking third.
The Friesen Performance IMCA Northern Sportmod feature was the final race of the night. The 21-car starting field ran a great race with second row starter Tyler Heckart setting the pace until Dylan VanWyk was able to move out front. Fourth row starter Logan Anderson got into the lead on lap 10 and went on to score the win in the 15-lap feature.
VanWyk ran second ahead of Heckart and Trey Rock.
Racing will continue on Friday, May 27 with hot laps hitting the CJ Speedway at 7 p.m.