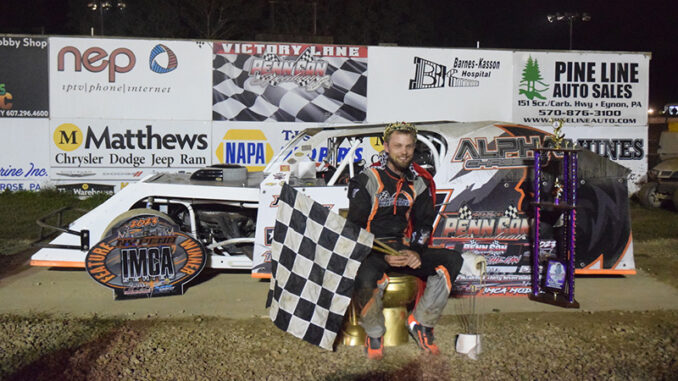 By Michael Benjamin 
SUSQUEHANNA, Pa. (Sept. 16, 2023) – The second night of a weekend doubleheader took Close Racing Supply NY-Penn IMCA Modified Series presented by M.R. Graphix drivers to Penn Can Speedway Saturday and it was Rodney Morgan winning the annual Sean Lias Memorial race and $1,637.
Also the series winner at Susquehanna in May and The Hill Speedway in July, Morgan's latest run to the checkers was also good for 2024 Fast Shafts All-Star Invitational qualifying eligibility.
Dash winner Tyler Stoddard and Bobby Maynard paced the field to the green but Rich Michael Jr. came through the field from his fifth starting position to take the lead.
Morgan found himself working his way up into the runner-up spot from sixth before a caution that bunched up the field and put him on the outside of Michael on the restart.
The two then put on a spectacular show for the fans as they battled for the top spot. Morgan finally got past Michael for the lead after a lap 10 restart and never looked back. He was challenged by Michael but held him off for the next 14 laps and five more caution flags to find himself taking home the $1,637 top prize.
Michael was second with Kenny Schrader, Eddie Sites and Stoddard rounding out the top five.
Sites scored the Force Flow Pressure Services hard charger award for the second night in a row after starting scratch at the back of the field in the Jake Maynard machine.
The Lias Memorial was part of the night two program at Penn Can's King of the Can special.
The next race and finale for the NY-Penn Series for Friesen Performance IMCA Modifieds will be on Oct. 14 as they hit the famed quarter-mile oval at Five Mile Point Speedway in Kirkwood, N.Y.