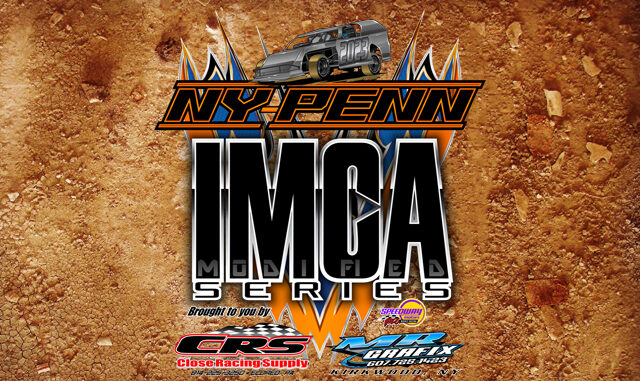 By Paul Szmal
WOODHULL, N.Y. (May 20, 2023) – After day-long rains, nobody expected racing to happen at the 1/3 mile Woodhull Raceway for the 2023 Close Racing Supply NY-Penn IMCA Modified Series presented by M.R. Grafix.
But the persistence of the track crew in not giving up and prepping the surface meant racing did happen, and Eddie Sites won his second Friesen Performance IMCA Modified series event of the season in a wild finish.
Gary Roberts and Shawn Bruce brought the field to the green for the 25-lap feature event, with Roberts spinning in turn one, collecting Sites and Rodney Morgan.
Rich Michael Jr. took the lead on the restart as Bruce battled with Tyler Stoddard for third. Sites outdragged Michael on a lap three restart but the yellow flew for Brad Sites spinning on lap five to bunch the field once again.
Morgan had a front end issue to bring out the next caution and Jake Maynard snagged third from Tyler Stoddard before another yellow for Jacob McConell's spin in turn four.
Eddie Sites and Michael continued to battle for the lead through the second half of the race, with Sites fending off the challenges.
Things got crazy on lap 23 when Sites went wide and Michael ducked underneath him, taking the lead as they both bounced over the cushion in turn three. Michael led across the line for the white flag, but went wide in turn one and Sites slid back underneath to retake the lead and nip Michael at the line for the win.
Maynard nipped Stoddard for third after a race-long battle, with Bruce rounding out the top five.
Race four of the series will happen Sunday, May 28 at Penn Can Speedway in Susquehanna, Pa.