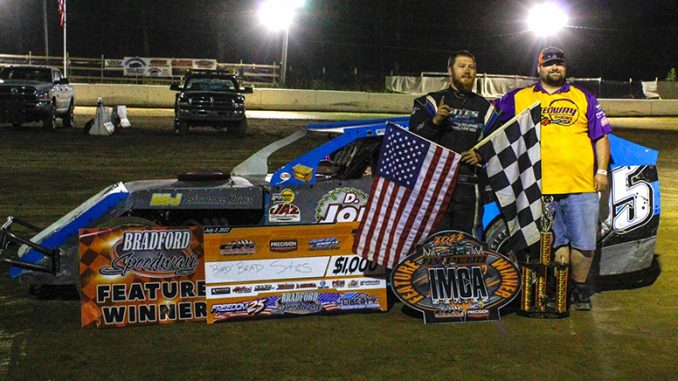 By Todd Burgess 
BRADFORD, Pa. (July 3, 2022) – It had been more than 20 years since Bradford Speedway had seen a sanctioned Friesen Performance IMCA Modified race, so the banked bullring nestled in the hills of rural Bradford, Pa., was a fresh face to most of the Close Racing Supply NY-Penn Series presented by Precision Hydraulic and Oil competitors.
The July 3 Freedom 25 presented by Liberty Seamless Gutters & Roofing marked stop number six for the series and if anyone had predicted that defending series champion Brad Sites would be rolling into the pits at Bradford winless in 2022, they'd have gotten some strange looks.
After winning his heat race from the pole, things kept rolling Sites' way as he reached in and pulled chip number one for the 25-lap main event and at the drop of the green, Sites immediately jumped out to a three car length lead over Jake McConnell, with Rodney Morgan close behind in third.
An early caution bunched the field back up and put it squarely on Sites' rear bumper. On the ensuing restart, McConnell got way loose off turn four, causing a traffic jam behind him that drew another yellow and sent Eddie Sites and Tyler Stoddard pit side with significant damage.
With the green flag in the air once again, the field settled into some side-by-side battling behind Sites, who began to set sail. Clean air and a fast hotrod were all Sites would need to get the 2022 monkey off his back and claim his first series victory of the year, earning $1,000 and Fast Shafts All-Star Invitational qualifying eligibility.
Morgan kept Sites in his sights with a strong second place at the checkers. Aaron Benjamin did a fine job of rallying back from an early spin to cross the stripe in fourth, right behind Rich McNeal in third. The bronze podium garnered McNeal his best series finish of the season.
Next up for the NY-Penn IMCA Modified Series is the Billy Maynard Memorial at The Hill Speedway in Monroeton, Pa., on Friday, July 8th. That 25-lap feature pays $1,069 to win, plus lap money.
Bob Harris Enterprises shock rebuild certificates were awarded to Benjamin and Keith Lamphere. Eddie Sites received a $50 Allstar Performance certificate and Rich McNeal got a free set of gears from PEM.
Wilwood certificates went to McConnell and Morgan while $25 fuel bonus recipients were Brad Sites for the best draw and Jason Sullivan for the worst.