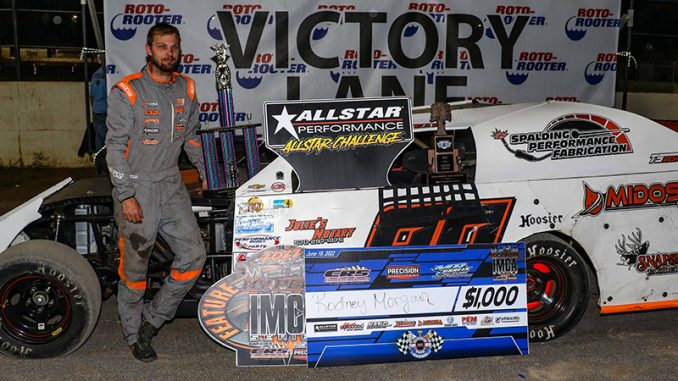 by Evan Canfield
BLOOMSBURG, Pa. (June 19, 2022) – In the racing world, most drivers have that one big race that got away. For NY-Penn IMCA Modified Series driver Rodney Morgan, that race was Bloomsburg Fair Raceway in 2021.
After leading much of that event, invader David Stremme slipped by Morgan late to take the win. Coming back to Bloomsburg on June 19th, Morgan was determined to get back the one he missed out on a year ago.
Series points leader Keith Jack Lamphere set the pace for the beginning of the 25 lap feature, with Ray McClure starting to his outside. Once the green flag waved, Lamphere took the race lead. McClure faded back as Rodney Morgan slid up to second, bringing David Stremme and Brad Sites along with him.
The caution waved on lap four as Shawn Bruce found the turn one wall. That set up a restart with Lamphere in the top spot followed by Morgan, then Stremme and Sites. Morgan got the advantage on Lamphere on the restart, taking the lead away on the top. Meanwhile down on the bottom, Stremme looked to get to the front under Lamphere, taking the spot away.
Laps ticked away as Stremme continued to try to close in on Morgan. He got close before the caution flew on lap 10, as Jacob McConnell went around after contact with Sites. Stremme utilized the high side on the restart and took away the top spot, leaving Morgan in his tracks.
Once losing the lead, it was beginning to seem as though Morgan was going to relive his unfortunate loss to Stremme in 2021 once again. As Stremme got to the clean track, he began to run away with the lead, with Morgan second and Lamphere in third. But it wouldn't stay that way. On lap 16, Stremme showed heavy smoke and pulled to the infield. That handed the lead back to Morgan.
Morgan scored the victory with a substantial lead over Lamphere and Sites. The win was Morgan's second of the year, winning at Penn Can Speedway earlier in the season.
The next event for the NY-Penn IMCA Modified Series will be Saturday, June 25 with the second trip of the season to Skyline Raceway Motorsports Park for the Sean Lias Memorial. Eddie Sites claimed the victory in the first trip to The Virgil, N.Y. facility this season.
RESULTS
1. Rodney Morgan; 2. Keith Jack Lamphere; 3. Eddie Sites; 4. Brad Sites; 5. Jared Spalding; 6. Tyler Stoddard; 7. Aaron Benjamin; 8. Jacob McConnell; 9. Ray McClure; 10. Jason Sullivan; 11. Bobby Maynard; 12. David Stremme; 13. Jake Maynard; 14. Shawn Bruce; 15. Lance Garvey.